Abstract: PS1389
Type: Poster Presentation
Presentation during EHA24: On Saturday, June 15, 2019 from 17:30 - 19:00
Location: Poster area
Background
Large randomized trials have shown that maintenance therapy after autologous hematopoietic cell transplantation (auto-HCT) is associated with longer progression-free survival (PFS) in myeloma patients. In this setting, lenalidomide, an immunomodulatory drug (IMiD), is most commonly used, however, proteasome inhibitors (PI) are also frequently used, especially in patients with high-risk cytogenetic abnormalities
Aims
We aimed to analyse if IMiDs, PIs, or a combination of IMiD and PI offers the best maintenance approach after auto-HCT.
Methods
In this retrospective analysis, we included all myeloma patients who received an upfront auto-HCT between January 1, 2007 and December 31, 2015, followed by maintenance therapy at MD Anderson Cancer Center
Results
Seven hundred and fifty patients, 57% males, median age at transplant 60.8 year (range: 32-80) were identified. ISS stage at diagnosis was; stage I in 273 (44%), stage II in 186 (30%), and stage III in 164 (26%) patients. The cytogenetic risk was standard in 586 (79%) patients, and high-risk in 153 (21%) patients. Eighty-two percent of patients had IMiD only, 8% had PI only, and 9% had both IMiD plus PI for maintenance. Median duration of maintenance was 18.5 months (0.1-94). Thirty-eight percent of patients stopped maintenance due to disease progression,18 % due to toxicity, while 29% were still receiving maintenance at the time of analysis. 
 The most frequent grade III-IV toxicity was infection (41 %). Second malignancies were detected in 33 (4%) of patients, myelodysplastic syndrome being the most common (1%).
Median PFS from auto-HCT was 40.3 months. PFS in patients receiving IMiD, PI, or IMiD plus PI was 20%, 50%, and 57%, respectively (p-value<0.001)(Figure 1). Shorter PFS was observed in patients who received PI only maintenance therapy, had ISS stages II or III, high-risk cytogenetics, and had high bone marrow plasma cell percentage.  Patients with longer duration of maintenance therapy experienced lower risk of progression/death.  Duration of maintenance therapy (> 3 years vs. ≤ 3 years) was independently associated with PFS with HR (95% CI) 0.42 (0.24, 0.76) and p-value 0.004. Median OS from auto-HCT was 88.9 month and from initiation of maintenance therapy was 78.3 months. Overall survival (OS) at 3 years was significantly better in combined approach 80% and IMID only 84% versus PI only 73% (p-value 0.018). Shorter OS was seen for patients receiving PI only maintenance therapy, ISS stages II or III disease, and patients with high-risk cytogenetics. Patients who received 3 years of maintenance therapy experienced decreased risk of death compared with patients with ≤ 3 years of treatment.  Adjusting for all significant measures, cytogenetic risk and duration of maintenance therapy (> 3 years vs. ≤ 3 years) remained significantly associated with OS.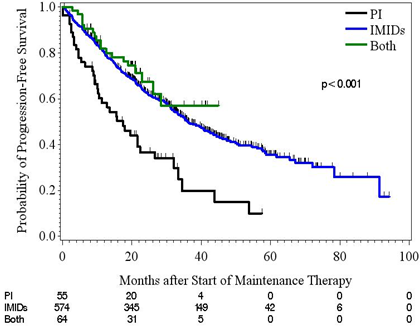 Conclusion
maintenance had proven its efficacy in controlling myeloma with increased PFS and  improved OS. The type of maintenance used although did not reach statistical significance but combing P.I and IMID shows promise, keeping patients on maintenance for more than 3 years had a significant advantage in PFS and OS and should be exploited in future randomized controlled trials.
Session topic: 14. Myeloma and other monoclonal gammopathies - Clinical
Keyword(s): Immunomodulatory thalidomide analog, Maintenance, Myeloma, Proteasome inhibitor