Abstract: PS1388
Type: Poster Presentation
Presentation during EHA24: On Saturday, June 15, 2019 from 17:30 - 19:00
Location: Poster area
Background

The European Myeloma Network and the European Society for Medical Oncology recommend lenalidomide + dexamethasone (Rd), lenalidomide + bortezomib + dexamethasone (RVd), or bortezomib + melphalan + prednisone (VMP) for the treatment of patients with newly diagnosed multiple myeloma (NDMM) not intended for autologous stem cell transplantation (ASCT). Demonstration of the efficacy of new combinations for the treatment of NDMM, such as Rd + daratumumab (Rd+D) and VMP + daratumumab (VMP+D), is increasing the potential therapeutic options for patients. However, many of these regimens have not been compared head-to-head in randomized controlled trials (RCTs). Indirect treatment comparisons can provide important information to determine the relative efficacy of these regimens.
Aims
To compare recently introduced regimens, including Rd+D and VMP+D, for patients with NDMM not intended for ASCT with standard of care regimens by performing a network meta-analysis (NMA).
Methods

A systematic literature review (SLR) was conducted to identify RCTs matching a predefined list of study selection criteria and literature search strategies. The list of included studies was refined to include only those evaluating therapies routinely used in clinical practice or those recently introduced. Hazard ratios (HRs) were synthesized with a Bayesian NMA under the proportional hazards assumption. The posterior distributions of the relative treatment effects were used to calculate the probability that each treatment in the network has a certain rank for overall survival (OS) and progression-free survival (PFS).
Results
In total, 30 RCTs were identified. When limiting the analysis to new therapies, such as RVd, Rd+D, and VMP+D, and other regimens included in guidelines, such as Rd, melphalan + prednisone (MP), melphalan + prednisone + thalidomide (MPT), and VMP, 8 trials were included for analysis: FIRST, IFM 01/01, IFM 99-06, MM03, VISTA, MAIA, SWOG S0777, and ALCYONE. HRs for OS and PFS were available for all regimens, with the exception of the HR for OS for VMP+D versus VMP (ALCYONE).
Treatment rankings are presented as rankograms (Figure). The ranks are represented on the x-axis and the probability that the given treatment has a certain rank in terms of efficacy is represented on the y-axis. For OS, RVd was associated with the highest probability of being the best treatment (P = 0.66) and Rd+D was associated with the second-highest probability of being the best treatment (P = 0.34) (Figure A).
For PFS, Rd+D (P = 0.63) and VMP+D (P = 0.35) ranked first and second in terms of the probability of being the best treatment, respectively (Figure B). However, since the investigational arms of MAIA and ALCYONE did not reach median PFS, and given the uncertainty associated with median follow-up durations of less than 28 months, this limits the strength of the conclusions that can be drawn regarding the efficacy of VMP+D and Rd+D in relation to other treatments.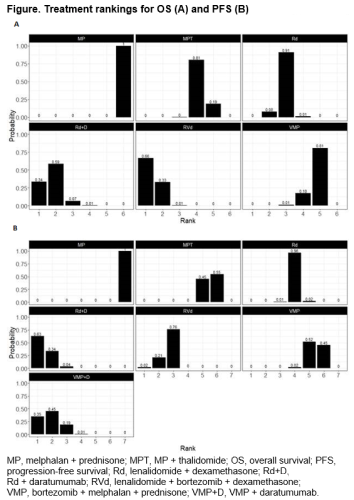 Conclusion

Despite limited follow-up for recent trials, the Bayesian framework employed in this study allows for a probabilistic interpretation suggesting that, of the included regimens, RVd and Rd+D are most likely to prolong OS and PFS, respectively, in patients with NDMM not intended for ASCT. Further evidence for the new regimens is needed to confirm their long-term benefit over the current routine standards of care.
Session topic: 14. Myeloma and other monoclonal gammopathies - Clinical
Keyword(s): Meta-analysis, Multiple myeloma