Abstract: PS1386
Type: Poster Presentation
Presentation during EHA24: On Saturday, June 15, 2019 from 17:30 - 19:00
Location: Poster area
Background
Substantial improvement has been made in the outcome of multiple myeloma (MM) with the incorporation of novel drugs into Total Therapy (TT) regimens, which include induction, autologous stem cell transplantation (ASCT), consolidation and maintenance.  Thalidomide was used in TT2, bortezomib (V) in TT3a and lenalidomide (R) in TT3b. However, there is a group of approximately 15% of patients with high risk (HR) MM who have not benefited from these novel drugs. In an effort to improve outcome, the TT5a trial was designed for HR MM and used a less dose intense regimen avoiding autologous stem cell transplantation (ASCT) with high dose melphalan (M) as conditioning. This approach allowed for a dose dense approach with frequent application of chemotherapy avoiding long treatment free intervals in effort to reduce relapse. This regimen reduced early mortality and relapse, but was not successful in improving progression free survival (PFS) mainly due to disease recurrence during the VRD maintenance phase.
Aims
In TT5b, we incorporated carfilzomib (K), a tetrapeptide epoxyketone analog of epoxomicin, which irreversibly inhibits proteoasome activity, during all phases of therapy. Based on the high incidence of MRD positivity in TT5a which preceded relapse, one cycle of consolidation therapy was re-introduced. The principal aims of these interventions were to improve outcomes.
Methods
Patients had HR MM as defined by GEP70 or MyPRS. Two patients were enrolled because of primary plasma cell leukemia. Therapy comprised eight-drug combinations for induction (M-KTD-PACE; melphalan, carfilzomib, thalidomide, dexamethasone; and four-day continuous infusions of cisplatin, doxorubicin, cyclophosphamide, etoposide), two transplants (M-80-KDT-PACE), one inter-transplant cycle with M-20-KTD-PACE and one consolidation with KTD-PACE followed by  KRD in yr 1 of maintenance and KD in yrs 2.
Results
TT5b enrolled 20 patients. The median follow-up was 30 months (range: 18-57). The median age was 63.5 yrs (range 44.4-69.8). A HR 70 gene/MyPRS score (n=16) or metaphase cytogenetic abnormalities (n=20) were present in 81 and 65% of patients, respectively. Two patients had plasma cell leukemia.  The cumulative incidence of VGPR and PR were 95 and 75% with a CR or sCR being achieved in 45 and 35% respectively. Three-year estimates of overall survival (OS) and progression free survival (PFS) were 100 and 71%. The OS in TT5b was significantly better than HR patients treated on TT3a, TT3b and TT5 (100% vs 52, 46 and 60%, p=0.01). There was a strong trend to a better PFS in TT5b compared to TT3a, TT3b and TT5a subjects (71 vs 40, 41 and 32% (p=0.06).  All 20 subjects are still alive. Four progressed on study therapy. There were 7 progressors off-study who were unable to continue protocol therapy due to logistical reasons. Of these 7, 3 received protocol like K-based maintenance therapy with, whilst 4 were on other therapy.  Nine patients are progression free.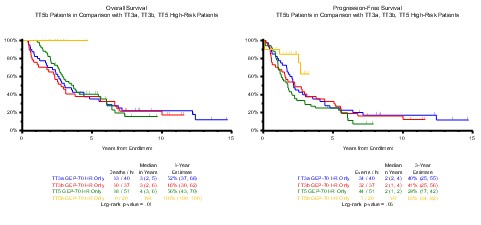 Conclusion
Accepting the limitations of a small sized, non-randomized exploratory study these results point to a favorable impact of the incorporation of carfilzomib, during all stages of therapy, on the outcome of HR myeloma.
Session topic: 14. Myeloma and other monoclonal gammopathies - Clinical
Keyword(s): Myeloma, Proteasome inhibitor, Transplant