Abstract: PS1382
Type: Poster Presentation
Presentation during EHA24: On Saturday, June 15, 2019 from 17:30 - 19:00
Location: Poster area
Background
Deepened response has been associated with prolonged progression-free (PFS) and overall survival in multiple myeloma, including in the maintenance therapy setting. In the Myeloma XI trial, post-ASCT maintenance with lenalidomide vs observation resulted in improved responses in 15.8% vs 11.0% of patients (pts) and a median PFS of 56.9 vs 30.1 months (Jackson et al, ASH 2017). In the phase 3, double-blind, placebo-controlled TOURMALINE-MM3 study (NCT02181413), post-ASCT maintenance therapy with the oral proteasome inhibitor (PI) ixazomib vs placebo resulted in a 39% improvement in PFS (median 26.5 vs 21.3 months; HR 0.72; 95% CI: 0.58–0.89; p=0.002), with a favorable safety profile (Dimopoulos et al, Lancet 2019). We report improvements in depth of response and the impact on outcomes in TOURMALINE-MM3.
Aims
To evaluate the rates and timing of response improvement during ixazomib vs placebo maintenance and the impact on PFS in TOURMALINE-MM3.
Methods
Pts who had achieved ≥partial response (PR) to induction therapy with a PI and/or immunomodulatory drug followed by single ASCT were randomized 3:2 to receive ixazomib (N=395) or placebo (N=261) on day 1, 8, and 15 of 28-d cycles for up to 2 years or until progressive disease or unacceptable toxicity. Randomization was stratified by induction regimen, pre-induction ISS stage, and post-ASCT response (complete response [CR] or very good PR [VGPR] vs PR). Ixazomib dose was 3 mg in cycles 1–4 and 4 mg from cycle 5 if tolerated in cycles 1–4. Minimal residual disease (MRD) was assessed at screening by flow cytometry (10-5 sensitivity). The primary endpoint was PFS per independent review committee (IRC). Other endpoints included rate of response improvement in pts enrolled in VGPR or PR.
Results
At study entry, 60 (15%), 213 (54%), and 89 (23%) pts in the ixazomib arm and 54 (21%), 152 (58%), and 35 (13%) in the placebo arm had CR, VGPR, and PR, respectively, by IRC. Deepening responses were seen in 139/302 (46%) ixazomib vs 60/187 (32%) placebo pts with VGPR/PR at enrollment (relative risk [RR] 1.41, 95% CI 1.1–1.8, p=0.004), including 92/213 (43%) vs 48/152 (32%) VGPR to CR (RR 1.37, p=0.025) and 47/89 (53%) vs 12/35 (34%) PR to VGPR/CR (RR 1.54, p=0.063). On Kaplan-Meier analysis of time to best deepened response in VGPR/PR pts (Figure), 24-month rates of deepening response were 54.2% vs 41.4%, and there was a 38.4% improvement in the chance of deepening response over time with ixazomib vs placebo (HR 1.384, p=0.034). A pooled analysis across arms among pts enrolled in VGPR/PR showed that deepening response vs no improvement was associated with prolonged PFS (median not reached vs 15.9 months; HR 0.245, 95% CI 0.184–0.325, p<0.0001). Analysis by treatment arm showed that, in VGPR/PR pts with deepening response, 24-month PFS rates were 77.4% vs 68.3% with ixazomib vs placebo (medians not reached; HR 0.875; 12.5% risk reduction; 95% CI 0.52–1.47; p=0.615); in VGPR/PR pts without deepening response 24-month PFS rates were 33.4% vs 23.6% (median 17.9 vs 14.1 months; HR 0.780; 22% risk reduction; 95% CI 0.59–1.03; p=0.080). Baseline MRD status was a strong predictor of deepening response; deepening responses were seen in 63% (78/124) vs 32% (94/293) of MRD- vs MRD+ pts enrolled in VGPR/PR.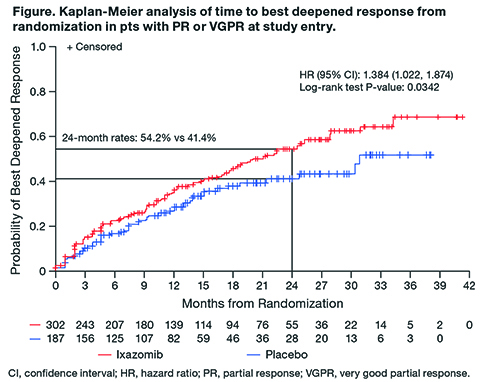 Conclusion
Post-ASCT maintenance with ixazomib resulted in a significantly higher rate of deepening response vs placebo; deepening response was associated with prolonged PFS. Ixazomib resulted in non-significant PFS benefit vs placebo in VGPR/PR pts with and without deepening response; prolonged follow-up would be needed to confirm these results.
Session topic: 14. Myeloma and other monoclonal gammopathies - Clinical
Keyword(s): Clinical trial, Multiple myeloma, Proteasome inhibitor