Abstract: PS1375
Type: Poster Presentation
Presentation during EHA24: On Saturday, June 15, 2019 from 17:30 - 19:00
Location: Poster area
Background
Venetoclax (Ven) is a highly selective, potent, oral BCL-2 inhibitor that induces apoptosis in malignant cells dependent on BCL-2 for survival. Proteasome inhibitors (PIs) and dexamethasone (d) were shown to increase BCL-2 dependence in multiple myeloma (MM) cells, and preclinical studies showed enhanced inhibition of MM tumor growth with Ven+PI compared to either alone. Moreover, d has been shown to indirectly promote BCL-2 dependency in MM cells. Clinical trials have since demonstrated efficacy of Ven in combination with the PI bortezomib in patients (pts) with relapsed/refractory MM (RRMM). 
Aims
We report interim data for Ven combined with second-generation PI carfilzomib (K) and d in pts with RRMM. 
Methods
In this ongoing Phase 2 study (NCT02899052), pts with RRMM (1-3 prior lines of therapy) and no prior K exposure received VenKd on 28-day cycles in 4 dose-finding and 1 expansion cohort: Ven 400 mg/day + K 27 mg/m2 Day 1, 2, 8, 9, 15, 16 + d 40 mg Day 1, 8, 15, 22 (Cohort 1); same regimen but with Ven 800 mg/day (Cohort 2); Ven 800 mg/day + K 70 mg/m2 Day 1, 8, 15 + d 40 mg Day 1, 8, 15, 22 (Cohort 3/expansion cohort); or Ven 800 mg + K 56 mg/m2 Day 1, 2, 8, 9, 15, 16 + d 40 mg Day 1, 2, 8, 9, 15, 16, 22, 23 (Cohort 4). Treatment continued until progressive disease or unacceptable toxicity.
Results

As of the clinical data cut-off of 1 Feb 2019, 43 pts were enrolled. Median age was 67 (range, 37-79), 26 (62%) pts had ISS II/III disease, and 8 (19%) were t(11;14)+. Median number of prior lines of therapy was 2 (range, 1-3). Forty (93%) pts received prior PI (49% refractory), 33 (77%) received prior immunomodulatory drug (IMiD, 61% refractory), and 33 (77%) received prior PI+IMiD (33% double refractory).
All pts had at least 1 adverse event (AE). The most common AEs of any grade were diarrhea (65%), nausea (49%), fatigue (47%), cough (35%), insomnia, dyspnea, vomiting, upper respiratory infection (33% each), lymphopenia (28%), thrombocytopenia, and dyspepsia (26% each). Thirty-six (84%) pts had a Grade 3/4 AE, the most common being lymphopenia (23%), pneumonia, hypertension (16% each), and hypophosphatemia (12%).
The overall response rate (ORR) was 79%, complete response or better (≥CR) rate was 40%, and very good partial response or better (≥VGPR) rate was 64% for all pts (Table). Median follow-up for 42 pts was 10.4 months (95% CI=8.0-13.8); 15 pts had progression-free survival (PFS) events, with median PFS yet to be achieved. Baseline bone marrow core biopsy samples from 25 pts were evaluated for BCL-2 expression by immunohistochemistry, with high expression (≥50% of tumor cells with moderate or higher cytoplasmic staining) seen in 23 (92%) samples. Pts with high BCL-2 expression had response rates similar to the overall study population. Other correlative biomarker analyses are ongoing.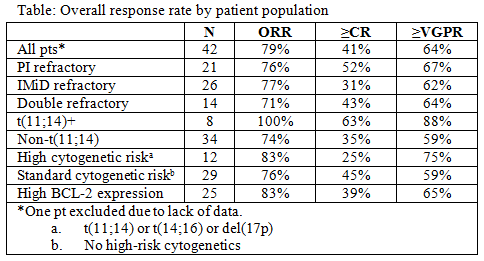 Conclusion
The combination of VenKd was found to be tolerable with no new safety signals. VenKd demonstrates promising efficacy in pts with RRMM. The study remains ongoing with an additional 60 pts with RRMM enrolling to assess efficacy and safety in a larger group of pts with similar eligibility (Cohort 6) and t(11;14)+ pts (Cohort 7). 
Session topic: 14. Myeloma and other monoclonal gammopathies - Clinical
Keyword(s): BCL2, Multiple myeloma, Refractory