Abstract: PS1368
Type: Poster Presentation
Presentation during EHA24: On Saturday, June 15, 2019 from 17:30 - 19:00
Location: Poster area
Background
Clonality assessment in patients with multiple myeloma (MM) is important both for initial diagnosis and detecting minimal residual disease. Next-generation sequencing (NGS)-based immunoglobulin gene rearrangement assays may be useful for assessing clonality, although their applicability has not been convincingly demonstrated. 
Aims
We intended to evaluate the primer set most widely used with the only commercially available NGS-based clonality assay in high-risk MM patients for the first time.
Methods
Thirty bone marrow aspirate samples were included in the study. The samples were evaluated for IGH rearrangements and IGH somatic hypermutation using the LymphoTrack® IGH-FR1 assay (InVivoScribe, San Diego, CA) on a MiSeqDx instrument (Illumina, San Diego, CA). When kappa-type cases showed negative IGH rearrangement (and somatic hypermutation), LymphoTrack® IGK assay (InVivoScribe) was performed.
Results
IGH-FR1 and/or IGK assay detected clonality (demonstrated by rearrangements) in 22 out of 26 MM cases (84.6%) who were not lambda-type light chain disease. Detailed analysis on IGH clonality/somatic hypermutations and IGK clonality is presented in Table 1.  IGH clonality were observed in 20 of the 26 samples (76.5%), and among them 17 cases (85.0%) showed IGH somatic hypermutations. By testing IGK clonality on 5 kappa-type samples which did not show any IGH clonality including 1 kappa-type light chain disease, 2 samples (40.0%) showed IGK clonality. One out of 2 kappa-type light chain disease cases and 1 out of 3 lambda-type light chain disease cases showed IGH clonality, suggesting that the heavy chain clonality could have been missed in immunofixation electrophoresis assay. The IGH or IGK clonality was not statistically associated with heavy chain type or light chain type, even though all the 10 IgA-type cases showed either IGH or IGK clonality. Neither the existence of IGH clonality nor its quantity (expressed as a percentage) was associated with the percentage of plasma cells in the specimens.
Table 1. IGH clonality, IGH somatic hypermutation and IGK clonality according to the heavy chain and light chain types in 30 high-risk Korean multiple myeloma samples.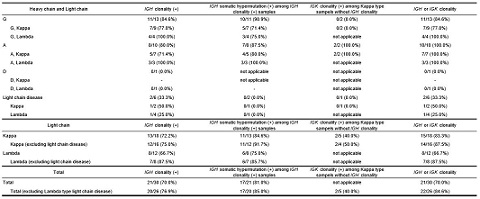 Conclusion
By combining the IGH-FR1 assay and/or IGK assay, we detected clonality in approximately 85% of high-risk Korean MM patients. Somatic hypermutations of IGH gene was observed in 85% cases with IGH clonality. Different sets of primers of immunoglobulin genes might increase the clonality detection rate in MM. 
Session topic: 13. Myeloma and other monoclonal gammopathies - Biology & Translational Research
Keyword(s): Multiple myeloma