Abstract: PS1367
Type: Poster Presentation
Presentation during EHA24: On Saturday, June 15, 2019 from 17:30 - 19:00
Location: Poster area
Background
Next generation sequencing (NGS) technology has enabled comprehensive analyses of genomic abnormalities occurring in cancer. Previous genetic studies using large cohorts of patients with multiple myeloma (MM) have revealed the genomic landscape of MM. Although some of these genomic abnormalities are believed to be associated with the molecular pathogenesis of MM and/or clinical outcome, these relationships are not fully understood. In addition, most previous studies have been performed in European and American cohorts. Thus, the genomic profiles of Asian or Japanese MM patients remains unclear.
Aims
We aimed to clarify the genomic profiles of Japanese patients with MM and to explore genomic alterations correlated to the clinical or pathological features of MM.
Methods
The cohort in this study included 138 Japanese patients, newly diagnosed with MM between Dec. 2013 and Jan. 2018. The median age at diagnosis was 69 years (36-87), and the male to female ratio was 1:1. Tumor DNA was isolated from CD138-positive bone marrow plasma cells, and germline control DNA was derived from peripheral blood mononuclear cells. A total of 340 genes related to MM and immunoglobulin (Ig) gene rearrangement regions were analyzed for somatic mutations and clonal Ig rearrangements by targeted capture sequencing. Single nucleotide polymorphism-baits were also included to detect copy number alterations (CNA) by sequencing. IgH-CCND1 translocations were detected, and expression levels of CCND1 mRNA were measured using FISH and RQ/RT-PCR, respectively.
Results
Clonal Ig gene rearrangements in myeloma-derived cells were identified in all patients. In total, 136/138 patients (98.6%) harbored at least one single-nucleotide variant or indel, with a median of 4 (0-12). KRAS was the most commonly mutated gene (48/138, 34.8%), and abnormalities in RAS/MAPK pathway genes were present in 85/138 patients (61.6%). In copy number analysis, 130 /138 patients (94.2%) had some kind of CNA and 52/138 (37.7%) were considered to be hyperdiploid subtypes according to WHO classification. Analysis of relationships between somatic mutations and CNA revealed MAX gene mutations in 9 patients (6.5%). All of these were accompanied by loss of heterozygosity (LOH) at chr14q23. An expression analysis was performed in 92 (66.7%) patients. Overexpression of CCND1 was observed in all 24 patients with t(11;14) as previously reported. Moreover, patients with a gain of CCND1 and uniparental disomy (UPD) of chr11 showed CCND1 overexpression. Del(17p) was observed in 13/138 patients (9.4%) and was predictive of shorter overall survival (OS) (p < 0.001).In cases with t(11;14), the presence of a KRAS mutation also tended to predict shorter OS (p = 0.0379).
Figure:Frequency of mutated genes in this cohort.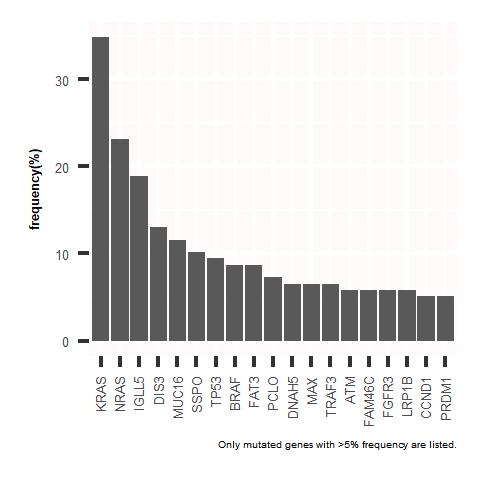 Conclusion
To the best of our knowledge, this is the first report of a comprehensive genetic analysis of Japanese MM patients. Although most of our results were compatible with those of the previous reports, hyperdiploid cases were less frequent, and KRAS mutations were more frequent than in other cohorts. These characteristics, although based on small numbers, may represent racial differences. In addition, all of the patients who had MAX mutations displayed LOH in this cohort. Because the function of MAX is not fully understood in MM, this correlation may add to our understanding of the molecular pathogenesis of myeloma.
Session topic: 13. Myeloma and other monoclonal gammopathies - Biology & Translational Research
Keyword(s): Genomics, Myeloma, Prognosis