Abstract: PS1366
Type: Poster Presentation
Presentation during EHA24: On Saturday, June 15, 2019 from 17:30 - 19:00
Location: Poster area
Background
Animal models reveal the pathophysiological mechanisms that underpin diseases and enable preclinical testing of new drugs. Multiple Myeloma (MM) is a B cell neoplasm that remains largely incurable nowadays. Despite numerous efforts to develop new therapeutic strategies, most drugs fail clinical trials notwithstanding successful preclinical studies. This is mainly due to the lack of clinically relevant animal models. As such, there is an unmet need to develop a model that mimics key aspects of MM, such as the tumour-microenvironment interactions. Several studies have shown promising results using immunotherapy to treat MM, for example CAR-T cells. However, there is a lack of reliable preclinical platforms that feature a humanized immune system together with a humanized tumour microenvironment that faithfully mimic bone lesions and allow engraftment of MM cells for accurate testing of these therapeutics.
Aims

Develop a humanized bone organ that supports hematopoiesis and myeloma cell engraftment in NSG mice
Develop a model that faithfully represents the MM-BM niche interaction and other clincal features, such as bone lesions
Methods
Here we present the first steps towards the development of a fully personalized MM animal model that is able to engraft patient cancerous cells into an orthotopic and humanized tissue–engineered bone construct (ohTEBC). We created a fully functional humanized bone marrow (hBM) niche in the ohTEBC. The construct was generated from melt electrospun medical-grade polycaprolactone tubular scaffolds that were seeded with human bone osteoprogenitor cells together with patient-derived BM cells embedded in a hydrogel. 
Results
8 weeks after orthotopic implantation around the right femur of NSG mice, the ohTEBC formed a bone organ containing a cortical shell infiltrated with human BM that was composed of human cells and extracellular matrix components, including new blood vessel formation.
Implantation of aged patient-derived CD34+ cells resulted in hCD45+ cell engraftment in the mouse BM, human BM compartment, spleen and peripheral blood, reaching levels of up to 62% by week 7. Moreover, these hCD45+ cells were also recruited towards the newly formed bone, suggesting the development of new BM tissue.
Injection of MM cells into the mature ohTEBC led to the establishment of a plasmacytoma in the humanised bone organ, causing also bone resorption in the construct.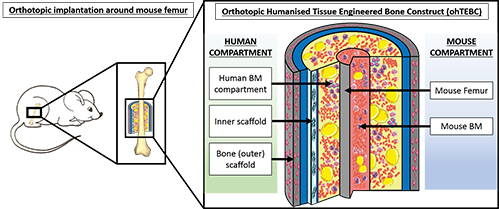 Conclusion
We were able to engraft aged patient-derived CD34+ cells in NSG mice with a hBM compartment that serves as niche for MM cells obtained from the same patient. Together this generated a fully personalized preclinical model. This is of key importance, since tumour populations differ among patients.
We demonstrated that this tissue-engineered MM model holds the potential as a unique and patient-specific drug testing platform, not only for common anti-myeloma drugs but also for immunotherapies, allowing to study interactions of MM on the humanised bone tissue as well as with the tumor microenvironment, driving the MM drug development and discovery forward.
Session topic: 13. Myeloma and other monoclonal gammopathies - Biology & Translational Research
Keyword(s): Mouse model, Multiple myeloma