Abstract: PS1359
Type: Poster Presentation
Presentation during EHA24: On Saturday, June 15, 2019 from 17:30 - 19:00
Location: Poster area
Background

MicroRNAs (miRNAs) are short non-coding RNA molecules that are involved in many physiological and pathological processes. Multiple myeloma (MM) is the second most common hematological malignancy of plasma cells (PCs). These cells are dependent on the BM microenvironment. However, a subclone of these cells can escape from the bone marrow (BM) either infiltrating soft tissues (extramedullary disease, EM) or escaping to peripheral blood (PB)(as so-called circulating plasma cells, cPCs). In both cases, loss of BM dependence is a negative prognostic marker for MM patients. IF more than 20% of cPCs are found in PB, the disease is reclassified as plasma cell leukemia (PCL).
The importance of miRNA in the pathogenesis of MM has been demonstrated by several studies. Thus, we hypothesize that miRNA dysregulation is involved in the BM escape of PCs.
Aims
The aim of this work was to analyze different expression of miRNA between BM PCs samples of EM and MM patients compared to cPCs. Furthermore, the expression of cell surface molecules of cPC was analyzed by flow cytometry.
Methods
Using next generation sequencing (NGS), 36 BM PCs from MM patients, 9 BM PCs from EM patients and 17 cPCs samples were analyzed (from MM and PCL patients). 16 paired samples (PB and BM) and 1 sample of PB were analyzed using flow cytometry. For identification of PC/cPC, CD38 and CD138 markers were used. The combination of CD19, CD20, CD27, CD56, CD81, CD117, CD200, CD44 and cytoplasmic nestin markers allows to identify and distinguish between abnormal and normal PCs.
Results

NGS analysis showed 2335 different miRNAs that were present in analyzed samples; 578 miRNAs were in at least 30 samples and had more than 1 read per million, were included in subsequent analysis. Out of these miRNA, there are 5 miRNAs (p<0.000001) that are significantly dysregulated between cPCs and BM PCs from EM patients. Furthermore, there are 7 miRNAs (p<0.0000000001) significantly dysregulated in cPCs in comparison to BM PCs from MM patients.
                The flow cytometry analysis showed that median amount of cPCs was 2.63% (0.69-68.7%). The BM infiltration of PCs was 26.75% (10.7-69.9%). Expression of CD19, CD56 and CD20 markers was determined for all 17 cPCs samples. The CD56 molecule was expressed in 75% (12/17), the CD19 molecule expressed in 11.8% (2/17), the CD20 molecule was expressed only in 5.9% (1/17) of all samples. For samples with more than 2% of cPCs (6/16), a more detailed analysis of the cPCs phenotype was performed: CD28 was present in 2/6, CD27 was not present, CD117 in 1/6, CD81 in 2/6, CD44 in 6/6, CD200 in 5/6 and cytoplasmic nestin was negative in all cases. In the BM (16 samples), CD19 was expressed in 2/16, CD20 in 1/16, CD56 in 12/16, CD27 in 2/16, CD28 in 3/13, CD117 in 5/16, CD44 in 12/14, CD200 in 9/13, cytoplasmic nestin in 6/14.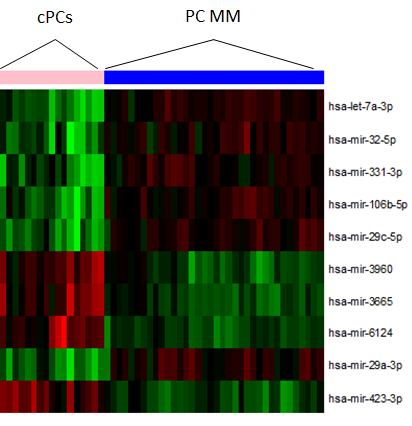 Conclusion

Using NGS, we showed that they are differentially expressed miRNA between MM BM PCs and EM BM PCs and cPCs. Based on flow cytometric analysis, we showed that phenotypic profile of cPCs correlated with the finding in the BM.
This work was supported by AZV 17-29343A and AZV 18-003-00203.
Session topic: 13. Myeloma and other monoclonal gammopathies - Biology & Translational Research
Keyword(s): Multiple myeloma