Abstract: PS1352
Type: Poster Presentation
Presentation during EHA24: On Saturday, June 15, 2019 from 17:30 - 19:00
Location: Poster area
Background

The bone marrow microenvironment (BMME) is crucial for the development and persistence of multiple myeloma (MM). This specific BMME includes immune cells and soluble factors involved in the regulation of tumor pathogenesis and progression. Further, the success of immune-based therapies is likely conditioned by the specific characteristics of each patient´s immune system by means they should exert its beneficial effects.
Aims

To characterize the cellular and soluble BMME in patients (pts) representing the complete spectrum of monoclonal gammopathies (MG) at diagnosis as well as in relapsed and refractory (RR) disease, to identify features potentially involved in disease pathogenesis.
Methods

We have studied 163 samples from pts with MGUS (n=9), high-risk smoldering MM (HRsMM) (n=20), newly diagnosed MM (NDMM) (n=26 £70 yo, n=97>70 yo), and relapsed and refractory (RRMM) disease (n=11), comparing the results with those from a cohort of age-matched healthy donors (HD; n=26).We identified and quantified 25 BM immune populations (B, T and NK and subsets) using three 8-color combinations of MoAbs. We also analyzed the PB serum concentration of seven cytokines (IFNg, IL10, IL12p70, IL17a, IL4, IL6, MIP1a and TNFa) by Milliplex and complement levels (C3 and C4) and activity (CH50) in a subgroup of 14 MGUS and 10 NDMM cases. Statistics were performed using the IBM SPSS package v25.
Results
First, we compared the results of the analysis of immune cell populations at diagnosis between samples from HD and MGUS, HRsMM and NDMM (Table 1). When compared to HD, an increased percentage of CD8+ T-cells was identified in MGUS pts, due to increased effector subsets. As per the HRsMM, higher percentages of all cell populations were identified: in CD4+ T-cells, based on the memory subsets; in CD8+, based on the effectors and in all NK subpopulations, except for the tissue resident subgroup. Interestingly, the same results were obtained when comparing HD vs NDMM cases. Then, we compared the results in the 3 pathogenic stages of the disease (MGUS vs HRsMM, MGUS vs NDMM and HRsMM vs NDMM) to identify potential changes associated with disease evolution. Again, MGUS differed from HRsMM by the increased percentage of CD4+ T-cells in the latter due to increased memory subsets but also in the higher percentage of NK cells due to the circulating and canonical subgroups. Similar results were identified when comparing MGUS and NDMM. Interestingly again, we did not find any significant difference when comparing HRsMM and NDMM cases. When we compared the characteristics of the BM immune ME between ND and RR cases, a decreased percentage in B cells and CD4+ T cells (based on reduced naïve subsets) was detected in the latter. Regarding the soluble factors, we found that, as compared to MGUS, in NDMM cases serum levels of IL17a were reduced but TNFa increased. C3 was above the reference ranges in 40% of MGUS vs. 73% of NDMM and C4 in 27% of MGUS vs. 64% of NDMM. In addition, CH50 was normal in all MGUS cases whereas it was reduced in 18% of NDMM pts.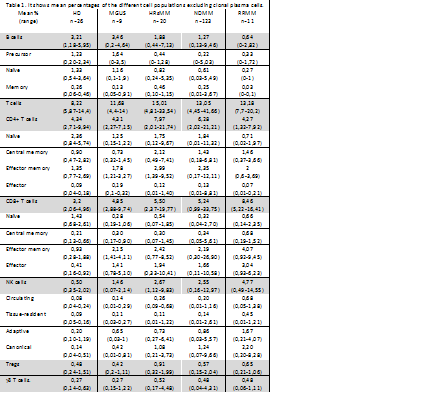 Conclusion

Analysis of the immune profile in pts with the complete spectrum of MG suggests significant and sequential changes associated with the transition throughout the different stages of the disease, both in cell populations and soluble factors. These results could be due to immune-vigilance in the precursor stages, which is lost with the progression and/or the treatment effect. Nevertheless, further analysis is needed to confirm these results and to ascertain their influence in MM development.
Session topic: 13. Myeloma and other monoclonal gammopathies - Biology & Translational Research
Keyword(s): Immunity, Myeloma