Abstract: PS1343
Type: Poster Presentation
Presentation during EHA24: On Saturday, June 15, 2019 from 17:30 - 19:00
Location: Poster area
Background

Deletion of the chromosome 20 long arm (del 20q) has been reported in 3-7% of patients with Myelodysplastic Syndromes (MDS). In particular, isolated del 20q seems to be associated with good prognosis, low risk of progression to AML and prolonged survival: however, very few reports addressed this subset of MDS patients up to now.
Aims
We attempt to define the peculiar characteristics of patients with myelodysplastic syndrome with del 20q.
Methods
We collected data from 53 MDS patients with isolated del 20q comparing the baseline characteristics with those of 502 normal karyotype (NK) MDS, both populations diagnosed and followed up by Centres of the Gruppo Romano-Laziale Sindromi Mielodisplastiche (GROM-L).
Results
Main features at diagnosis are shown in Table1. Between evaluable patients, the percentage of bone marrow blasts at diagnosis was significantly lower in del 20q population: 42/53 (79.2%) had a blast count < 5% compared to 290/452 (64.1%) NK MDS (p= 0.029). As a consequence, according to IPSS score del 20q MDS had higher proportion of low and int-1 risk than NK MDS (51/53 96.2% vs 419/490 85.5%, p=0.03). Moreover, platelet (PLT) count was found to be significantly lower in the del 20q MDS: 28/53 (52.8%) del 20q patients had PLT < 100 x 109/l vs 183/502 (36.4%) NK patients (p=0.02). No significant difference was found for ANC, Hb and ferritin level, age or gender, although it was observed a strong trend towards del20q karyotype in males. To date, in the del 20q cohort 14 patients (26.4%) underwent no treatment, 36 (67.9%) were treated with erythropoiesis-stimulating agents (ESA), 1 (1.9%) with hypomethylating agents, 2 (3.8%) with other treatments (TNF-α inhibitor, interferon). Among the 36 patients treated with ESA after a median interval from diagnosis of 5.0 months [interquartile range (IR) 1.2 – 27.6], 24 (66.6%) received α-recombinant human erythropoietin (EPO), 11 (30.5%) β-EPO and 1 (2.9%) darbopoietin. Thirty-four patients were available for evaluation: among them, 21 (61.7%) achieved stable erythroid response according IWG criteria while 13 (38.2%) were resistant to ESA.  Nine patients (17%) progressed to Acute Myeloid Leukaemia (AML) after a median time from diagnosis of 16.8 months (IR 4.1 – 51.7). At the last follow-up, 21 patients (39.6%) died (13 from MDS/AML related causes and 8 from unrelated causes), 12 (22.6%) were lost to follow-up and 20(37.8%) were alive. Median Overall Survival (OS) of the entire cohort was 61.6 months (95%CI 42.2 – 81.0): the 10-year cumulative OS was 38.6% (95%CI 18.6 – 58.6).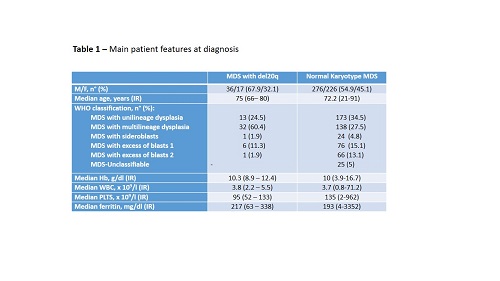 Conclusion
Given the heterogeneity of the disease and the different clinical behaviour in terms of leukemic evolution, many efforts are ongoing to identify patients with similar biological, clinical and prognostic features (e.g. 5q- syndrome, MDS with ring sideroblasts). According to our results, we suggest that MDS with isolated del 20q may represent a distinct biological entity, with peculiar clinical and prognostic features (low PLT count, low number of marrow blasts, low IPSS, good response to EPO, long OS). The physio-pathological mechanisms underlying the deletion of the chromosome 20 long arm are still unclear and warrant future molecular analysis.
Session topic: 10. Myelodysplastic syndromes - Clinical
Keyword(s): Cytogenetic abnormalities, Erythropoietin, Myelodysplasia