Abstract: PS1331
Type: Poster Presentation
Presentation during EHA24: On Saturday, June 15, 2019 from 17:30 - 19:00
Location: Poster area
Background
Normal hematopoietic function is maintained by a well controlled balance of myelomonocytic, megaerythroid and lymphoid progenitor cell populations. This balance may be skewed during pathologic conditions such as hematological malignancies, infections and autoimmunity. Moreover skewed hematopoiesis can be found in aged hematopoiesis. Myelomonocytic skewing has been described in chronic myelomonocytic leukemia (CMML) (Itzykson R et al, Blood 2013) but the role of this phenomen has not been investigated in a large cohort of patients. Since semisolid in vitro cultures from peripheral blood mononuclear cells (PBMNC) of normal individuals usually contain a higher concentration of erythroid colonies (BFU-E) as compared to myelomonocytic colony forming units (CFU-GM) this test may be useful for investigating skewed differentiation towards the myelomonocytic over erythroid committment in patients.
Aims
Our aim was to study the role myelomonocytic skewing in patients with CMML.
Methods
In the Austrian Biodatabase for CMML (ABCMML) real life data from CMML patients who are treated in different centers are collected centrally. Biologic assays are carried out in one laboratory in which in vitro cell cultures are performed. In this retrospective study data from the ABCMML were used to determine the frequency of myelomonocytic skewing, its correlation to hematologic and molecular parameters, and its prognostic impact in patients with CMML.  146 CMML patients were found in whom semisolid in vitro cell cultures from PBMNC have been performed between 1990 and 2018. The concentration of BFU-E and CFU-GM, respectively, was assessed as previously described (Geissler K et al, Blood 1996). For molecular characterization, we used NGS with amplicon-based target enrichment. Assuming that clones that are too small are unlikely to significantly impact hematopoiesis, only mutations with an allele burden of 20% or higher were considered as positive for analysis.
Results
There was a high prevalence of myelomonocytic skewing as indicated by an inverse ratio of BFU-E/CFU-GM in CMML patients (120/146, 82%) whereas this phenomenon was rare in normal individuals (2/54, 4%). There was no difference in patients with and without myelomonocytic skewing with regard to age and male predominance. CMML patients with myelomonocytic skewing had higher WBC counts (17.7 x 109/L [2.8-156] vs 8.3 [3.1-38], p=0.0008) and PB blast cell percentages (0% [0-17] vs 0 [0-2], p=0.0178), and lower platelet values (100 x 109/L [5-867] vs 160 [35-689], p=0.0015). In semisolid cultures myelomonocytic skewing was associated with a higher growth factor independent formation of CFU-GM (11.5/105PBMNC [0-1127] vs 2 [0-167], p=0071). Regarding the mutational profile, there were no differences in the frequency of mutations in genes of the epigenetic machinery (such as TET2, SRSF2and ASXL1) but a higher frequency of mutations in RASopathy genes including NRAS, KRAS, NF1, CBLand PTPN11, respectively, in CMML patients with (45%) as compared to patients without myelomonocytic skewing (13%, p=0.0153). Interestingly, the lack of myelomonocytic skewing discriminated CMML patients with a particularly favorable prognosis (Figure 1, 60 vs 19 months, p=0.0030).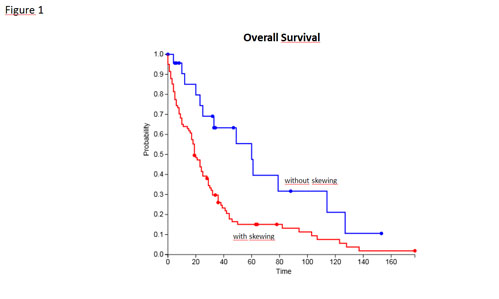 Conclusion
The results of this study show that the in vitro assessment of myelomonocytic skewing can discriminate subgroups of patients with CMML with a different hematologic phenotype, a different genotype and different prognosis. Our findings may be important for the understanding and management of CMML.
Session topic: 9. Myelodysplastic syndromes - Biology & Translational Research
Keyword(s): Chronic myelomonocytic leukemia, Genotype, Phenotype, Prognosis