Abstract: PS1312
Type: Poster Presentation
Presentation during EHA24: On Saturday, June 15, 2019 from 17:30 - 19:00
Location: Poster area
Background

Minimal residual disease (MRD) detection in mantle cell lymphoma (MCL) provides valuable prognostic information, leading to the design of MRD-based therapeutic strategies in prospective clinical trials. Quantitative polymerase chain reaction (qPCR) of IGH or BCL1-IgH rearrangements is the gold standard for MRD monitoring in MCL. Its major limitation is its relative quantification and the high proportion of follow-up (FU) samples with a low tumor burden that fall below the quantitative range (BQR) of the standard curve. Multiparameter flow cytometry (MFC) is a rapid absolute quantification alternative to qPCR which showed promise on retrospective testing. (Cheminant M. et al.) 
Aims
We here compare qPCR, prospective MFC and ddPCR in MCL samples from three laboratories of the Euro-MRD consortium. The main aim was to compare prospective MFC and ddPCR, particularly in FU samples with a low tumor burden, defined as BQR by qPCR
Methods

Samples were collected (with informed consent) in three prospective EU-MCL network clinical trials. qPCR and ddPCR were performed in Paris-Necker, Creteil and Torino according to Euro-MRD guidelines, as described (van der Velden VH. et al, Drandi D. et al).  Based on Poisson assumption, we stratified results with alternatively positive or negative replicates into three subgroups- for qPCR: 3/3 BQR vs. 2/3 vs. 1/3 positive replicates; for ddPCR: 2/3 or 1/3 replicates with >=3 positive events vs. 2/3 replicates with <3 events vs. 1/3 replicates with <3 events.  ddPCR results with <3 replicates and >=3 positive events were considered to be below the limit of quantification (BQL); those with <3 events were considered negative. MFC was performed, as described (Cheminant M. et al), with a robust quantifiable sensitivity (<30 cells in the "Mantle box") of 10E-4. Samples positive between 5.10E-5 and 10E-4 were considered positive BQF (Fluorescent).
Results

198/242 FU samples from 116 MCL with both qPCR and ddPCR with 3 replicates were analysed. Of these, 115/198 (58%) were BQR by qPCR. Overall, ddPCR scored positive (in all 3 replicates) in 28/115 (24%). ddPCR positive results belonged mostly to the BQR 3/3 triplicate positive samples (20/47, 42%) whereas only 7/43 (16%) of 2/3 and 1/25 (4%) of 1/3 triplicate positive results by qPCR were ddPCR positive, raising the possibility of non-specific false positivity by qPCR. 5/42 (12%) qPCR negative samples were positive by ddPCR (Table 1). Prospective MFC and ddPCR were performed on 68 FU samples in one center. All 12 samples positive >10E-4 by ddPCR were also MFC positive, whereas only 2/16 samples positive by ddPCR below 10E-4, including 3 BQL, were positive by MFC. Conversely 5/40 ddPCR negative samples were MFC positive, but 4/5 were selected on the basis of MFC+/qPCR negativity, with ddPCR confirming the qPCR result.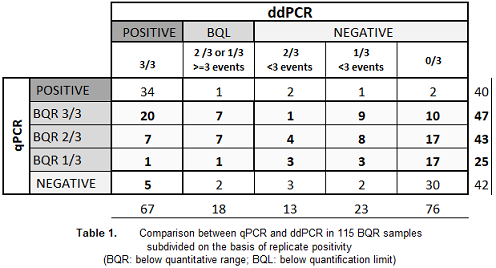 Conclusion

ddPCR, recently introduced into the Euro-MRD network, is comparable to qPCR and MFC quantification for high level MRD positivity (>10E-4) but is more sensitive than MFC for lower level positivity. Compared to qPCR, it reduces the incidence of BQR positivity by over 80% and, when using the criteria defined, here splits qPCR BQR results into 24% positive, 13% BQL and 63% negative results. The prognostic relevance of ddPCR needs to be compared to qPCR, but it appears better adapted to pre-emptive surveillance, since more sensitive than MCF, less subject to grey-zone positivity than qPCR and capable of absolute quantification of low-level positivity. Its place is currently being assessed in the context of prospective trials within the European MCL Network.
Session topic: 20. Lymphoma Biology & Translational Research
Keyword(s): Flow cytometry, Mantle cell lymphoma, PCR, Quantitative molecular analysis