Abstract: PS1300
Type: Poster Presentation
Presentation during EHA24: On Saturday, June 15, 2019 from 17:30 - 19:00
Location: Poster area
Background

The introduction of a rapid iron infusion protocol (ferric carboxymaltose) whilst more convenient and safe for patients has the potential to change the management of iron deficiency anaemia (IDA) away from best practice guidelines. Latrobe Regional Hospital (LRH) deliver all outpatient intravenous (IV) iron infusions through their chemotherapy day unit (CDU), providing an opportunity to study the total prescribing practices in a busy rural referral centre.
Aims

To assess the appropriateness of intravenous iron prescribing in a regional setting and implement service improvement projects where deviations from best practice were identified.
Methods
Baseline data of all IV iron infusions was collected from May 2017 to January 2018 (PRE phase 9 months).  From February to October 2018 (POST-phase 9 months), referrals from primary care physicians requesting an iron infusion were assessed by a haematology clinical nurse consultant (CNC) iron infusion clinic with physician supervision.  All internal medicine specialist requests for iron infusions were coordinated by the haematology CNC.  Iron infusion and prescribing rates were summarised for three groups, physician, local medical officer (LMO) and obstetrics and gynaecology (O & G).  All requests for iron infusions were assessed according to best practice guidelines.
Results

Table one summarises the total 311 iron infusions delivered over the 9-month pre-phase data collection period. The physician group referred an older population of both males and females. The LMO referral group were predominantly female.
Figure one shows the average monthly IV iron infusions delivered for the entire collection period and as per each referral group.
There was a significant reduction in the average monthly IV iron infusions from 38 to 23. Monthly infusions delivered following referrals from the LMO group reduced significantly from 17 to 6. Whilst referrals from the physician group increased and O & G group decreased, these were not significant.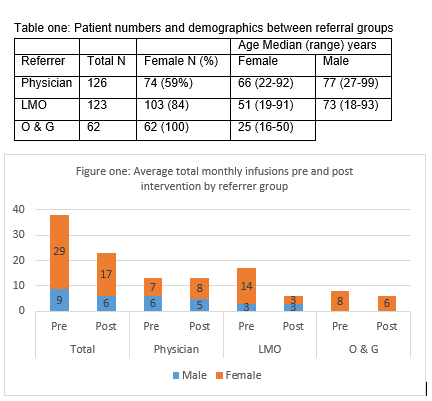 Conclusion

The development of an iron infusion clinic led by a haematology CNC provides a safe evidenced based assessment of patient referrals.  This model significantly reduced the rate of iron infusions in our regional hospital, allowing more efficient use of the expert outpatient infusion centre services and reducing potential harm related to an inappropriate therapy.
Session topic: 29. Iron metabolism, deficiency and overload
Keyword(s): Anemia, Iron deficiency, Iron deficiency anemia