Abstract: PS1297
Type: Poster Presentation
Presentation during EHA24: On Saturday, June 15, 2019 from 17:30 - 19:00
Location: Poster area
Background
Although Intravenous (IV) iron is widely and safely administrated to adults for various indications including severe anemia, chronic blood loss and postoperative anemia, Administration of IV iron is rarely used in children due to lack of pediatric data.
Aims
The aim of this study was to determine the indications for IV iron and to evaluate the efficacy and safety of IV iron infusions to children who were visited a single Korean center.
Methods
This retrospective study collected data from ≤18 year-old children who were received IV iron at the Keimyung University Dongsan Medical Center between July 2003 to December 2018. Exclusion criteria included: (1) receiving a packed red blood cell transfusion or erythropoietin, (2) surgery or massive bleeding before obtaining the laboratory results of post IV iron infusion. We compared laboratory results including hemoglobin (Hb) concentrate, mean corpuscular volume (MCV), serum ferritin level between pre and post-IV iron infusion. Also, the medical records were reviewed for adverse effects. All statistical analyses were performed using IBM SPSS software (version 23.0; IBM Corp., Armonk, NY), and P-values of <0.05 were considered statistically significant.
Results
Total 31 children (male:female=18:13; median age 4.5 years, range 0.3-17.9) received total 80 infusions of IV iron therapy. The most common etiology of anemia was gastrointestinal cause. Oral iron intolerance (32%) and refractoriness (26%) were common indications for IV iron infusion. Seventeen patients received a total 43 infusions of iron sucrose (median dose, 3.9 mg/kg, range 1.0 to 20.4), fifteen patients received a total 37 infusions of ferric carboxymaltose (median dose, 5mg/kg, range 3.3 to 18.8). All Patients had follow up laboratory test at 1-120 days (median 15 days) after their infusions. Except 2 patients, all patients showed good hematologic response. The median pre-infusion Hb, MCV and ferritin values were 9.0 g/dL (range 6.1-13.6), 75.9 fL (55.9-94.3) and 12.2 ng/mL (1.7-284.9), respectively. The median post-infusion Hb, MCV and ferritin values were 10.7 g/dL (6.3-14.7), 79.6 fL (64.9-103.5) and 54.0 ng/mL (3.9-842.8), respectively. There were statistically significant improvements in these values (p-value <0.001). No patients experienced severe adverse effects such as anaphylaxis.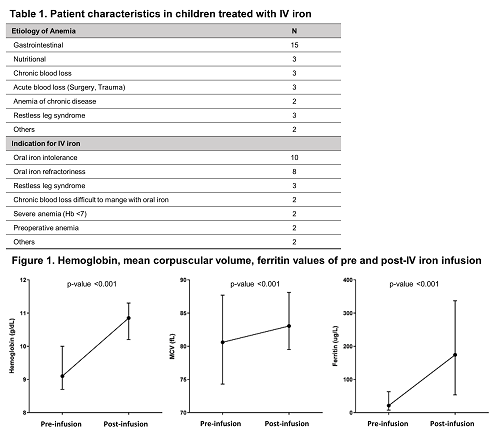 Conclusion
The most common indication for IV iron among Korean children was oral iron intolerance. The use of IV iron is effective and safe treatment in children.
Session topic: 29. Iron metabolism, deficiency and overload
Keyword(s): Anemia, Children