Abstract: PS1256
Type: Poster Presentation
Presentation during EHA24: On Saturday, June 15, 2019 from 17:30 - 19:00
Location: Poster area
Background
CTCL is a rare debilitating hematological malignancy in the skin lymphoid tissue whose treatment pattern remains diverse and patient tailored.
Aims
The objective was to describe treatment patterns and outcomes in CTCL patients who were refractory or had relapsed after a systemic therapy across five European countries
Methods
The present analysis included data from 19 sites (data cut-off: 18-Sep-2018) and represents an analysis of a retrospective multicenter chart review study. The study follows the principles of Good Epidemiological Practice, patient data were pseudonymized following both central & local Ethics Committees approval. Inclusion criteria allow patients to enrol if they had a diagnosis of CTCL, a prior course of systemic therapy and proved to be relapsed/refractory (R/R) prior to 1-Jan-2016. For primary cutaneous anaplastic large-cell lymphoma (pcALCL), R/R following radiotherapy (RT) also qualified patients for inclusion.
Results
In total 106 patients met inclusion criteria, half of them having a CTCL diagnosis after 2011 at median age of 57.5 (range 19-97) years (Table). At diagnosis, 65.1% of patients had mycosis fungoides (MF), 15.1% Sézary syndrome (SS), 13.2% pcALCL, and 6.6% had other rare cutaneous lymphoma subtypes. The median follow-up was 3.2 (range: 0.1-16.9) years from the date of R/R (index date). In total 103/106 patients received further treatment after the index date, 95% received systemic treatment and/or RT in routine practice, 4% were treated in a clinical trial, and one case received an allogeneic stem-cell transplant; 3/106 patients received no further treatment. At treatment initiation for R/R, the most common stages were IB and IIB for MF; and tumor stage (T3, N0, M0) for the other non-MF and non-SS subtypes. Common systemic therapies were single agent chemotherapy (23.1%), combination chemotherapy (19.8%), bexarotene-based regimens (18.7%) and methotrexate monotherapy (14.3%). While single agent chemotherapy was the primary treatment strategy for MF, combination chemotherapy was the preferred approach for pcALCL and other rare subtypes. There were also country differences with bexarotene being the most frequent in France and single agent chemotherapy in the other countries. Local skin-directed therapy in combination with systemic therapy and/or RT was used in 45 (44%) patients. Overall, 43.9% of patients displayed an objective response while 24.5% experienced progression. The median time to next relapse was 10.2 (range: 0.6-174.6) months. Skin symptoms of pruritus (35%), rash (25.5%) and irritation/burning (21.4%) continued to be experienced after treatment in R/R and 60% were found to have new lesions. Frequently reported adverse events included alopecia (23.5%), febrile neutropenia (17.3%) and fatigue (15.3%).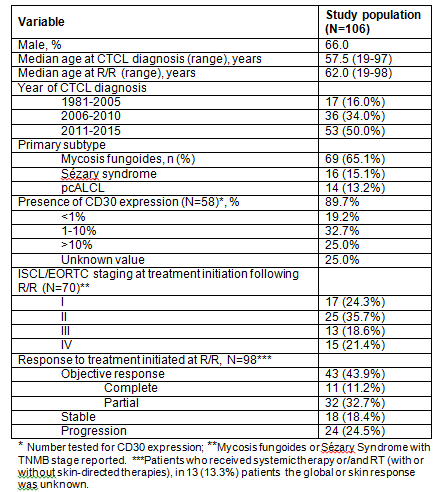 Conclusion
This analysis from a large observational study in CTCL reveals a significant heterogeneity of systemic therapies across subtypes and across countries. However, combination chemotherapies are more often used in clinical practice as expected as per the European/EORTC-CTCL guidelines. Furthermore, it suggests that despite the wide application of chemotherapy (42.9%), skin symptoms were still common, a limited complete response was achieved, and a quarter of CTCL R/R patients experience progression after treatment in R/R and relapse or become refractory again within less than one year. Our results indicate that the clinical burden of CTCL is likely to be considerable in Europe, and in this context recently approved targeted agents may assist in addressing this problem.
Session topic: 18. Indolent and mantle-cell non-Hodgkin lymphoma - Clinical
Keyword(s): Chemotherapy, Cutaneous T-cell lymphoma, Mycosis fungoides, Relapsed lymphoma