Abstract: PS1249
Type: Poster Presentation
Presentation during EHA24: On Saturday, June 15, 2019 from 17:30 - 19:00
Location: Poster area
Background
Predicting early clinical failure in patients with untreated follicular lymphoma (FL) is important but difficult. Lymphoma involvement of extranodal (EN) sites is better detected by FDG-PET/CT than CT alone, but PET parameters are not part of the usual predictive indices. 
Aims
We aimed to determine the incidence and patterns of EN and spleen disease, and learn if they were useful in predicting early clinical failure.
Methods
PET/CT images from 613 cases of newly diagnosed FL between 2003 – 2016 were retrospectively reviewed for EN and spleen involvement. The location, number, and pattern of EN sites, as well as splenic involvement, were recorded.  Associations with outcomes were assessed using event-free survival (EFS), overall survival (OS), and early clinical failure at 24 months (EFS24).
Results
49% (301/613) of patients had PET/CT-detected EN involvement, and 28% (171/613) had spleen involvement. Presence of ≥2 EN sites, spleen, bone or soft tissue involvement all predicted failure to achieve EFS24. These factors, as well as pattern of bone involvement by imaging, were predictors of EFS on univariate analysis; presence of ≥2 EN sites and bone involvement pattern were also predictive of OS.  In a multivariate analysis with FLIPI-2 factors, spleen involvement, pattern of bone involvement, and soft tissue involvement independently predicted a lower EFS (Table 1). When the multivariate analysis was performed using PRIMA-PI factors (marrow and B2M), the presence of ≥2 EN sites was an adverse independent prognostic factor for OS (HR 2.28; 95% CI 1.01-5.18; p=0.05).
Table 1: Extranodal and spleen involvement by PET/CT as predictors of event-free survival
Variable

Multivariate analysis for EFS

HR

P value

Bone involvement (n=204)

1.20 (0.90-1.60)

0.21

# of EN sites (≥2 vs. 0-1) (n=69)

1.43 (0.99-2.07)

0.06

Multifocal on diffuse pattern of bone involvement (n=41)

1.71 (1.10-2.65)

0.02

Spleen involvement (n=171)

1.49 (1.11-2.00)

<0.01

Soft tissue involvement (n=43)

1.67 (1.06-2.62)

0.02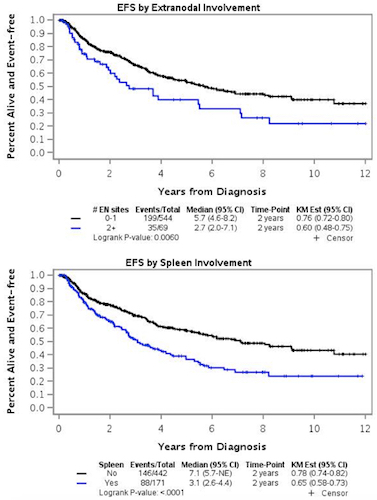 Conclusion
Baseline PET/CT identifies EN and spleen sites of disease that can predict early clinical failure in FL. These results, when combined with other factors, may better identify high-risk patients and guide appropriate therapy.
Session topic: 18. Indolent and mantle-cell non-Hodgkin lymphoma - Clinical
Keyword(s): Extranodal lymphoma, Follicular lymphoma, Spleen, Survival prediction