Abstract: PS1245
Type: Poster Presentation
Presentation during EHA24: On Saturday, June 15, 2019 from 17:30 - 19:00
Location: Poster area
Background
The programmed death-1 (PD-1) inhibitors have been approved by FDA for patients who relapse following autologous stem cell transplantation and brentuximab vedotin (BV) therapy. 
Aims

We aimed to present long-term results of our previously published retrospective multicenter study about the efficacy and safety of nivolumab in the "real-life" setting in Turkey (Bekoz et al. Ann Oncol 2017)
Methods

23 centers from Turkey participated in this study. Eligible patients were required those treated with at least 1 course of nivolumab and with available radiological response evaluation. Patients received nivolumab via a named-patient program. Nivolumab was adminstered at standard dose and schedule until death of any cause, unacceptable toxicity, withdrawal of consent, or primary physician's decision. The study was approved by the local ethical commitee.
The primary endpoint was the overall response rate (ORR); secondary endpoints were overall survival (OS), PFS, and safety. The response was assessed by positron-emission tomography/computed tomography or CT. Response evaluation was performed according to the Lugano Classification and its update regarding immunomodulatory therapy.
Results
Between 06/2015-11/2016, 86 patients from 23 centers were retrospectively analyzed. Although initial response evaluation was complete for seven patients, we could not reach their long-term medical records and we included them in our analysis.
Median follow-up was 27.5 months, median age was 29 (18-75) and patients had a median 5 (2-11) previous lines of therapy. 59 patients (69%) had been treated by stem cell transplantation (SCT) and 46 (77%) patients had been treated by BV. The best overall response rate was 70% (CR in 34% and PR in 36%). The median PFS was 33.5 months and, the median OS was not reached. The 24-month PFS and OS rates were 60% (95% CI 0.48-069) and 82% (95% CI 0.72-0.87), respectively. 79% and 53% of patients who achieved CR and PR continue their response at a median follow-up of 30 and 29 months, respectively. 27 patients (31%) received additional chemotherapy other then SCT conditioning, following nivolumab treatment. Median duration of response according to best response achieved was not reached for CR, it was 33.5 months for PR and 11 months for SD patients.  The survival curves are clearly discriminated according to response type and patients who achieved CR, PR and even SD had also survival advantage over PD patients.
26 patients underwent transplantation following nivolumab.  Among 14 patients who underwent allo-SCT, 12 were alive at the time of analysis at a median follow-up of 26.5 months. All patients with auto-SCT were alive  with a median follow-up of 27.5 months. Safety profile was acceptable and eight patients required cessation of nivolumab due to serious adverse events.
At the time of analysis, 71 patients were alive and, 33 cases were still on nivolumab treatment (38%), 22 of them having ongoing responses, 3 of them with SD and 7 of them had PD at the time of analysis. Additional therapy following PD after nivolumab was needed for 24 patients (8 BV, 4 BV-Benda, 1 R-Benda, 3 Benda, 2 GVP, 1 GDP, 2 ICE, 1 Bortezomibe-dexa,  1 oral endoxane and etoposide and, 1 RT for abscopal effect). Two patients with CR and 3 patients with PR had relapsed disease and, four of them needed second line treatment following nivolumab and 1 CR and 1 PR were achieved whereas 2 had PD.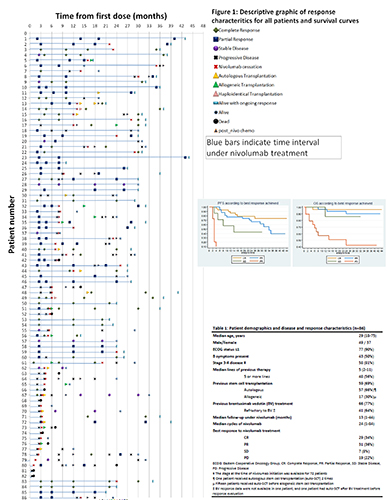 Conclusion

In conclusion PD-1 blockers are new options to meet the unmet need in patients with cHL refractory to BV treatment.
Session topic: 17. Hodgkin lymphoma - Clinical
Keyword(s): Hodgkin's lymphoma, Immunomodulation, Refractory, Relapsed lymphoma