Abstract: PS1216
Type: Poster Presentation
Presentation during EHA24: On Saturday, June 15, 2019 from 17:30 - 19:00
Location: Poster area
Background

Clinical trials of CART-cells have shown efficacy in B-cell lymphomas. Based on Zuma1 and Juliet trials, testing the efficacy of axicabtagene ciloleucel and tisagenlecleucel respectively, FDA has approved both products for the treatment of relapsed/refractory (r/r) DLBCL patients. In August 2018 EMA approved of both products. It is currently under definition in Italy the commercial use of CART-cells either for regulatory and financial issues. The selection of patients (pts) who can benefit the most from these novel treatments with a low risk of life-threatening toxicities is currently matter of discussion and EMA recommendation do not strictly defined inclusion and exclusion criteria when compared with clinical trials. However, based on the results and follow up of the early clinical trials and the reports about real life treatment with CART-cell, it is emerging that an expert clinical assessment and application of some inclusion criteria can minimize the severity of adverse events (AE) and help identify pts who can successfully been treated (ASH2018). 
Aims

Since 2016, our center is the only one approved in Italy and we are now conducting a prospective observational trial to evaluate the feasibility of CART-cell treatment. We report the results after EMA approval. It is worth of note that in Italy the government Drug Agency (AIFA) has not approved yet the commercial treatment.
Methods

Since September 2018 we prospectively register all pts referred at our center for CART-cell eligibility evaluation either for the enrolment in the ongoing clinical trial JCAR017 or in the contest of the expanded access program (EAP) open for enrolment since February 2019 only at our institution. We record all pts' data including disease characteristics, comorbidities, history and present disease status at imaging. Patients were evaluated and screened for inclusion/exclusion criteria of the CART cells program available at that moment and planned for treatment.
Results

32 pts with DLBCL potentially eligible to treatment according to EMA were recorded in 6 months. Median age was 50yrs, 26 DLBCL, 5 PMBCL, median number of previous therapy 3.
Overall, among the 32 pts referred to our center only 7 (22%) could be considered eligible for CARTs treatment. Six (19%) pts failed the preliminary assessment because of rapidly progressive disease (5 pts) and for cardiac comorbidity (1 pts). Three pts are still under evaluation. Among the remaining 23 pts, only 7 were considered eligible for CART-cell treatment: one was treated and one is waiting for CARTs reinfusion, 3 pts are in the waiting list and 2 became no more eligible due to progressive disease. Thus, in a real life clinical situation only 7 of 29 pts became eligible, but 2 of 7 pts already died of progressive disease while waiting for CAR T-cells.  Cardiopathy, rapid or uncontrolled progressive disease and poor performance status represent the major cause of no eligibility to treatment.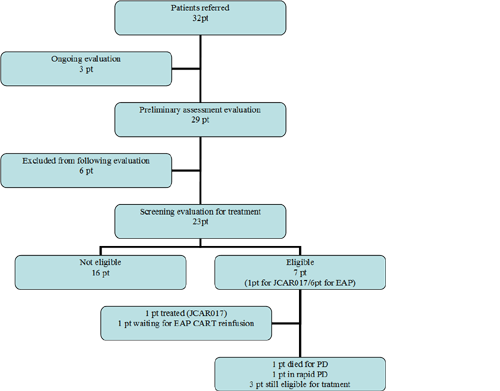 Conclusion

Among all pts with r/r DLBCL only 24% presented clinical and disease characteristics suitable for CARTs treatment. Moreover, some eligible pts run the risk to become ineligible because of poor disease control. The 4 week period to obtain CART-cells is a major obstacle to successful treatment. CART-cell treatment needs to be planned earlier in the disease course to optimize the outcome. The feasibility in Italy over the last 6 months of CART cells treatment has been largely unsatisfactory and primarily limited by the lack of commercial products. Our observational study is ongoing.
Session topic: 25. Gene therapy, cellular immunotherapy and vaccination - Clinical
Keyword(s): Lymphoma therapy