Abstract: PS1215
Type: Poster Presentation
Presentation during EHA24: On Saturday, June 15, 2019 from 17:30 - 19:00
Location: Poster area
Background
PNK-007 is an allogeneic, off-the-shelf cell therapy enriched for CD56+/CD3‐ NK cells expanded from placental CD34+ cells. PNK-007 exhibits cytotoxicity against various cancer cell types. 
Aims
Characterize the safety and tolerability of PNK-007 single-infusion in subjects (subj) with relapsed/refractory (r/r) AML (completed) and with r/r and Newly Diagnosed (ND) MM (active; not recruiting) subj within 28 days dose-limiting toxicity period (DLT).  
Methods
After lymphodepletion in AML study, single PNK-007 infusion of 1, 3, or 10 million (M) cells/kg followed by subcutaneous recombinant human IL-2 (IL2) at 6M units every other day, starting on the day of PNK-007 infusion, for up to 6 doses to facilitate PNK-007 expansion was administered.  In the MM study, single PNK-007 infusion following ASCT with 10 M cells/kg Day (D) 14 with or without IL2; 30M cells/kg D14 with IL2; or 30M cells/kg D7 with IL2 after variable pre-ASCT induction therapy was administered. Treatment-emergent adverse events (TEAE) were extracted from clinical dataset for the 28-day DLT period. The safety analysis included TEAE assessment using Medical Dictionary for Regulatory Activities (MedDRA) System Organ Class (SOC) and Preferred Terms (PT) order by severity, grading, seriousness, events of interest, and PNK-007 relatedness per the investigators' assessments.  
Results
In the AML study (n=10), subj aged 30-70 years received a median of 3 prior lines of therapy. The most common SOC was Metabolism disorders with hypokalemia reported in 7 subj. Within cardiac disorders SOC, a grade (Gr) 5 unrelated cardiac arrest was an event of interest in 1 subj (10%). This subject experienced respiratory distress (day 14), dialysis (day 17), and died of cardiac arrest on day 17; not attributed to PNK-007. In Gastrointestinal SOC, 4 subj (40%) reported nausea, 1 PNK-007 related. 6 subj experienced hypotension (60%) with 1 Gr 3 PNK-007 related. Infections noted were sinusitis, Klebsiella infection, Cytomegalovirus, and serious sepsis/Pneumonia/Clostridium difficile/Bacteremia; all PNK-007 unrelated. 5 subj reported serious adverse event (SAE); one attributed to PNK-007. This related event was noted as a DLT of cytokine release syndrome (CRS) which occurred 14 days after PNK-007 infusion and was managed with tocilizumab. 
In the MM study (n=15; aged 44-69 years), 12 subj were ND and 3 were r/r MM. No Gr ≥ 3 events were reported under Cardiac or Nervous System disorders SOC. The most common SOC noted was Gastrointestinal disorders with TEAE in 12 subj (80%). Within General disorders SOC, pyrexia was reported in 7 subj (47%); all unrelated to PNK-007. Anaemia was noted in 5 subj (33%); 1 PNK-007 related.  1 subj experienced a Gr 2 capillary leak syndrome on the day of 6th IL2 dose (day 10) along with nephrotic syndrome on the same day; both attributed to IL2. 4 subj (26%) experienced maculo-papular rash (2 Gr 3); unrelated. Infections noted were oral candidiasis (2 Gr 2 and 1 Gr 3), Gr 2 soft tissue infection, 1 Gr 3 serious staphylococcal abscess, and 1 Gr 3 serious streptococcal pneumonia, all unrelated. 4 subj reported SAEs; all unrelated to PNK-007.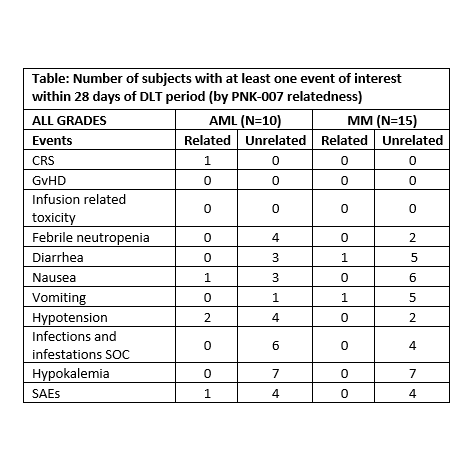 Conclusion
PNK-007 has a favorable safety and tolerability profile. Overall, CRS incidence was 1 out of 25 subj with no fatality. No GvHD, Infusion related toxicity, Cardiac, or Neurotoxicity were reported. All noted Infections SOC events were unrelated to PNK-007.  The safety profile of PNK-007 merits evaluation for therapeutic use in hematological malignancies and solid tumors. 
Session topic: 25. Gene therapy, cellular immunotherapy and vaccination - Clinical
Keyword(s): Acute myeloid leukemia, Cellular therapy, Multiple myeloma, Natural killer