Abstract: PS1214
Type: Poster Presentation
Presentation during EHA24: On Saturday, June 15, 2019 from 17:30 - 19:00
Location: Poster area
Background

Several chimeric antigen receptor products targeting CD19 are either approved or in development for the treatment of acute lymphoblastic leukemia (ALL) and non-Hodgkin's lymphoma (NHL). Nevertheless, information on infections and immune impairment caused by this procedure (lymphodepletion chemotherapy, neutropenia, B-cell aplasia and hypogammaglobulinemia) remains scarce.
Aims

To characterize the immune impairment, fever episodes and epidemiology of proven infections in a cohort of adult and pediatric patients with relapsed/refractory (R/R) CD19+ malignancies treated with ARI-0001 cells. 
Methods

Eligibility criteria included patients with R/R CD19+ malignancies who had failed standard available therapy. All patients were conditioned with fludarabine (90 mg/m2) and cyclophosphamide (900 mg/m2) before receiving 0.4-5 x106 ARI-0001 cells/kg. We report all infections with positive microbiological results from the start of lymphodepletion chemotherapy to day +120, and its association with fever (≥ 38ºC), cytokine release syndrome (CRS), neutropenia, B-cell aplasia and hypogammaglobulinemia (IgG < 6.8g/L [adults], ≤ 8.0g/L [pediatrics]). Antimicrobial prophylaxis included trimethoprim/sulfamethoxazole or pentamidine (until >200 CD4+ cells/ml), acyclovir for 3-6 months in all pediatric patients and in adults if VZV or HSV+, plus levofloxacin and fluconazol or voriconazol (during grade 4 neutropenia [< 0.5 neutrophils x109/L]).
Results

A total of 30 patients (23 adults/7 pediatrics) received ARI-0001 cells. Diagnoses were ALL (25), NHL (4) and CLL (1). Median age was 24 years (3-54), and 56% were men. 21/25 of ALL patients relapsed after alloHCT, and 3/4 of NHL patients relapsed after autoHCT. Hypogammaglobulinemia was detected at screening in 73% (22/30) of patients (72% in LLA, and 80% NHL/CLL) with median IgG levels of 5.6 g/L (adults) and 7.49 g/L (pediatrics). After therapy, B-cell aplasia occurred in all patients with a median duration of 84 days (42-371), while hypogammaglobulinemia persisted in 61.5% (8/13) of evaluable patients at day +120. Grade 4 neutropenia was observed in 90% (27/30) of all patients, with a median duration of 10.5 days (1-85) in patients with ≥ 0.5 neutrophils x109/L prior lymphodepletion. 13 patients (43%) had 17 episodes of infection (7 bacterial and 10 viral; see Table 1): 9 from lymphodepletion to day +30 post-infusion (4 bacterial and 5 viral), and 8 from day +31 to day +120 (3 bacterial and 5 viral). No fungal infections were documented. We observed 2 severe infections: a C. difficile-positive pseudomembranous colitis that caused the patient's death on day +6, and a respiratory syncytial virus tracheobronchitis that required ICU on day +10. Median neutrophil count at time of infection was 0.6 (0.1-3.8) x109/L for bacterial and 1.4 (0.0–3.3) x109/L for viral infections. Median IgG levels at screening and at day +120 was 4.8 and 5.95 g/L (with infections), and 6.54 and 7.16 g/L (without infections), respectively. Median B-cell aplasia lasted 101.5 (70-287) days (with infections), and 70 (42-371) days (without infections). 66% of patients (20/30) had a total of 24 febrile episodes: 18/24 (75%) were attributed to CRS, 3/24 (12.5%) had a proven infection, and the remaining 12.5% (3/24) did not have CRS or proven infection.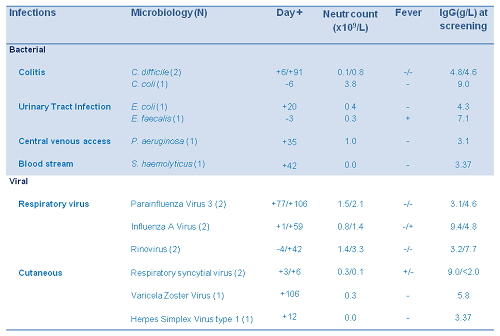 Conclusion

Immune impairment was extensive due to lymphodepleting chemotherapy, neutropenia, B-cell aplasia and hypogammaglobulinemia. Febrile episodes were mostly attributed to CRS, with few proven infections. Infections occurred but were mostly mild, with an infection-related mortality of 3.3%.
Session topic: 25. Gene therapy, cellular immunotherapy and vaccination - Clinical
Keyword(s): ALL, Gene therapy, Immunotherapy, NHL