Abstract: PS1211
Type: Poster Presentation
Presentation during EHA24: On Saturday, June 15, 2019 from 17:30 - 19:00
Location: Poster area
Background

Despite worldwide promising clinical outcome of CD19-directed chimeric antigen receptors T (19-CAR T-cell) therapy in refractory or relapsed B acute lymphoblastic leukemia (r/r B-ALL), relapse after this therapy is associated with particular poor prognosis and has become an urgent problem to be solved. Most of them are probably refractory to secondary 19-CAR T-cell therapy. Therefore, new treatments are needed. 
Aims

To evaluate the efficacy and safety of CD22-directed CAR T (22-CAR T) cell therapy in 34 patients with r/r B-ALL.
Methods

Between July 6, 2017 and May 9, 2018, consecutive 34 patients (pts) with r/r B-ALL who received 22-CAR T-cell therapy were enrolled in Beijing Boren Hospital. The median age was 10 (1-55) years old. The characteristics of all enrolled pts were shown in Table 1. Thirteen of 34 (38%) pts had previously undergone allogeneic hematopoietic stem cell transplantation (allo-HCT). Extramedullary diseases (EMDs) were commonly observed in 11 pts (32%) including 4 (12%) with exclusive EMDs. Twenty-five pts (74%) had hematological relapse (HR) with a median marrow blast of 63.8% (rang, 5% to 97%) blasts by FCM. Five pts (15%) had FCM-MRD+ with a median marrow blasts of 3% (range, 0.3% to 5%) by FCM. 31/34 pts had failed pervious 19-CAR T-cell therapy. All pts had CD22 expression on blasts. A lentiviral vector was used to carry a second-generation CAR including anti-CD22 ScFv derived from a human antibody autophagy library, 4-1BB co-stimulatory and CD3z signaling domains. Manufacture of CAR-T cells from PBMCs commenced on day 0 of leukapheresis and was completed in 7-8 days. The median doses of 22-CAR T cells infused were 7.5 (0.3-34.7) × 105/kg in non-transplant pts, and 1 (0.2-10) × 105/kg in transplant pts. The 22-CAR T-cell expansion and cytokine releasing syndrome (CRS) were monitored after infusion. The efficacy in BM was evaluated on day 30, and EMDs were examined by imaging tests on day 30. Long term follow-up was carried out. 
Results

Peak expansion of CAR-T cells (1.8-2200 fold) was detected at day 12 to 15. Four pts died within 30 days during CAR T-cell treatment: 1 pt died of grade 5 CRS. 1 pt died of VOD on day 29. 2 pts died of severe infections. Of the 30 pts who survived for 30 days or longer and were evaluated for response, 24 (80%) achieved CR/CRi. Of the 21 pts with hematological relapse at baseline, 19 (90%) achieved CR/CRi, and 18 (86%) achieved FCM-MRD-. Of the 5 FCM-MRD+pts, 3 (60%) converted to FCM-MRD-. Of the 4 pts with exclusive EMDs, 2 (50%) achieved CR, and 1 had a partial reduction in his EMD. CRS occurred in 31 of 34 pts (91.2%) and was mild or moderate (grade 1 or 2) in 30 pts. Grade 1 neurotoxicity occurred in 5 of 34 pts. One pt developed grade 2 neurotoxicity was managed with interventions, and completely resolved shortly. With a median follow-up time of 11.5 months, 11 pts had been bridged to allo-HCT after 22-CAR T-cell therapy with 55 (40 to 70) days, and 1-year DFS was 71.6%; among the 8 pts without any other therapies, 3 pts had remained CR in 6m,6.6m and 14m, while 5 pts relapsed with the median relapsed time of 3.4 (1.7 to 6) m.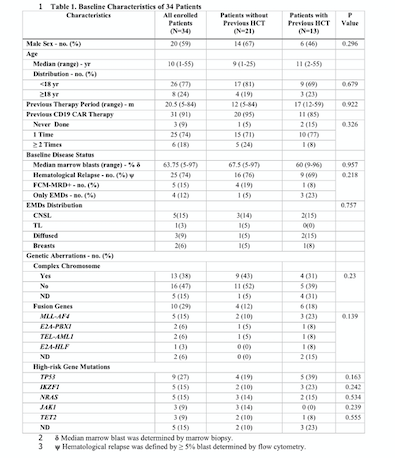 Conclusion

Our study demonstrated that our CD22 CAR T cells are capable of inducing a high remission rate in B-ALL patients who are refractory or relapsed after chemotherapy, transplantation, and even 19-CAR T-cell therapy. Although relapse rate was high after 22-CAR T-cell therapy without additional treatment, subsequent bridging to allo-HCT after CAR T-cell therapy can reduce the relapse rate.
Session topic: 25. Gene therapy, cellular immunotherapy and vaccination - Clinical
Keyword(s): B cell acute lymphoblastic leukemia, Immune therapy