Abstract: PS1209
Type: Poster Pitch
Presentation during EHA24: On Saturday, June 15, 2019 from 17:30 - 19:00
Location: Poster area
Background

Chimeric antigen receptors (CARs) have been used in the past several years in cancer therapy to redirect immune effector cells. Despite impressive preliminary efficacy of CAR-T cells in multiple myeloma (MM), NK cell engineering has emerged as a competitive and safer approach. NK-92 is a universal, cheap and fast "off-the-shelf" cellular therapeutic previously used in clinical trials. Although modest responses with these cells have been reported in MM, their oncolytic potential can be enhanced by genetic modification. So far, two preclinical studies have been performed with CAR NK-92 against MM, targeting CD138 or CS1 (SLAMF7). However, there are still reasonable doubts about its clinical outcomes due to on-target off-tumor effect or fratricide, respectively.
Aims

Thus, the aim of our study is to generate and compare two novel CAR NK-92 products for MM treatment.
Methods

NK-92MI cells were lentivirally transduced with the full-length ectodomain sequence of the human native NKG2D receptor or with an anti-BCMA scFv, both containing identical 4-1BB costimulatory and CD3-ζ signaling domains (Figure 1A). To compare the efficacy between these 2nd generation NKG2D-CAR NK-92MI and BCMA-CAR NK-92MI cells, the same MOI 10 was used to transduce them; both populations were then purified by FACS sorting to obtain stable modified cell lines and vector copy number was measured by qPCR to ensure similar CAR expression. Cytotoxicity assays were performed by 3-hours Calcein-AM analysis. We used MM cell lines with different expression of target ligands: U266, BCMAhigh and NKG2DLhigh; XG-1, a NK resistant cell line, BCMAhigh and NKG2DLlow; NCI H929 R20, a bortezomib resistant cell line with NKG2DLlow. K562, a leukemia cell line with BCMAnegative and NKG2DLhigh expression, was used as negative control.
Results

NKG2D-CAR NK-92MI cells consistently showed much higher in vitro antitumor activity than the parental line NK-92MI against U266 (84 ± 2% vs 40.7 ± 4% at a 1:1 E:T ratio), XG-1 (67.9 ± 9% vs 18.5 ± 4% at a 16:1 E:T ratio) and NCI H929 R20 (50.9 ± 6% vs 23.7 ± 2% at a 16:1 E:T ratio) cell lines (Figure 1B). NKG2D-CAR NK-92MI proved specificity in a blocking assay with an anti-NKG2D antibody (82% decrease compares to baseline lysis). Furthermore, the oncolytic potential of NKG2D-CAR NK-92MI was not altered by physiological levels of soluble MICA, described in MM patients, or mandatory 10Gy irradiation prior to clinical use. Next, we compared cytotoxicity between NKG2D-CAR NK-92MI  and BCMA-CAR NK-92MI against U-266 (84 ± 2% vs 91.9 ± 3% at a 1:1 E:T ratio), XG-1 (67.9 ± 9% vs 89.9 ± 2% at a 16:1 E:T ratio) and K562 (94 ± 3% vs 25.74 ± 4% at a 1:1 E:T ratio) cell lines (Figure 1C). Strikingly, there were no significant differences between NKG2D-CAR NK and the gold standard BCMA-CAR against MM cell lines with high and similar BCMA and NKG2DL expression. In addition, correlation between target ligands expression on the tumor and efficacy and specificity of both CARs was also shown. None of the CAR NK-92MI studied populations showed toxicity against PBMCs from healthy donors and in vivo MM orthotopic xenograft mouse model experiments are ongoing.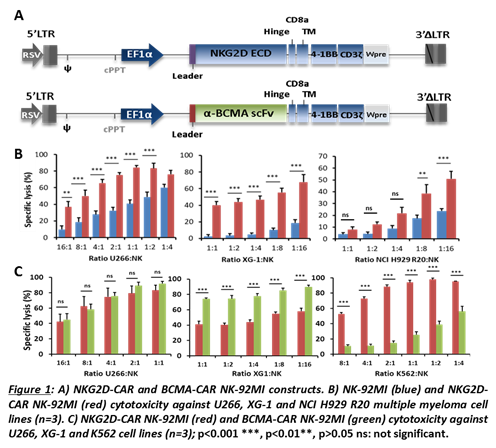 Conclusion

We have generated two novel and stable CAR NK-92 immunoproducts that improve the oncolytic efficacy of the parental cell line. Indeed, NKG2D-CAR NK-92MI cells are as equally efficient as BCMA-CAR NK-92MI cells to eradicate diverse MM cells. To summarize, all these data show the feasibility to use this NK 'off-the-shelf' approach as immunotherapy for MM.
Session topic: 24. Gene therapy, cellular immunotherapy and vaccination - Biology & Translational Res
Keyword(s): Gene therapy, Immunotherapy, Multiple myeloma, NK cell