Abstract: PS1203
Type: Poster Presentation
Presentation during EHA24: On Saturday, June 15, 2019 from 17:30 - 19:00
Location: Poster area
Background

Hereditary spherocytosis (HS) is a worldwide reported pathology, but the highest prevalence is found among the northern European population (estimated at 1:2000 births). However, its diagnosis is still complex. As a Belgian reference laboratory for this condition, we provide a review of our 8 years' experience.
Aims

Our objectives were (a) to characterize a cohort of confirmed HS patients in term of clinical and biological parameters, (b) to evaluate and eventually adjust our previously established cutoffs for screening and diagnostic tests , and (c) to evaluate our diagnostic approach and compare it with the last ICSH algorithm .
Methods

This retrospective study focused on patients from 10 different Belgian hospitals explored in our laboratory for HS between April 2009 and December 2016. Patients previously splenectomized, with red blood cell transfusion received within 3 months prior to sampling or without a complete medical record were excluded. We divided the cohort (77 patients) in 2 groups: HS (n= 33) and non-HS (n= 44). Non-HS patients were then divided into 3 groups: other hemolytic conditions (OHC; n=23), non-hemolytic anemia (NHA; n=10) and others (O; n=11). HS diagnosis was based on the following criteria: family history, chronic hemolytic anemia features, spherocytes on blood smear, positive screening test i.e. cryohemolysis (CH) or eosin-5-maleimid (EMA), and at least one positive diagnostic test (ektacytometry or erythrocytes membrane protein electrophoresis). Hematological parameters were achieved using the UniCel DxH800 (Beckman Coulter) hematology analyzer.
Results

The median age of HS and non-HS groups were respectively 6 and 28 years. Jaundice and splenomegaly were the most discriminating clinical signs. Between HS and non-HS as well as between HS and OHA groups, reticulocytes count, mean reticulocyte volume (MRV), immature reticulocyte fraction (IRF), mean sphered cell volume (MSCV), screening tests i.e. CH and EMA and ektacytometrywere the most statistically significant biological parameters (p < 0.001). New cutoffs have been established for most discriminating reticulocytes parameters, CH, EMA and ektacytometry (Table 1). Application of the last ICSH algorithm did not reveal diagnostic discordance. However, some tests were realized while not recommended.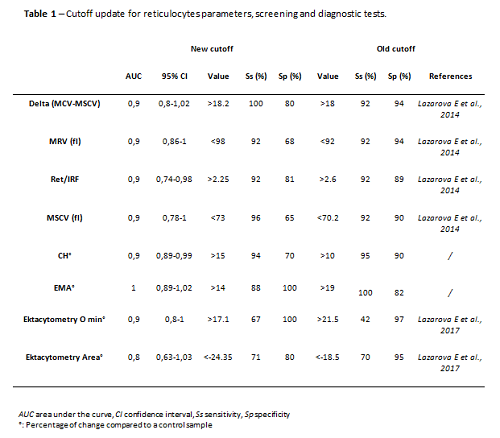 Conclusion

This study confirms published results regarding the major clinical features of HS and the most discriminant reticulocytes parameters available with the DxH800 analyzer for suspicion of HS. Cutoffs for those parameters, for screening tests and ektacytometry values were adjusted on the basis of an extended study period on a restricted cohort of patients with a confirmed diagnosis of HS.
In a general laboratory, a higher number of patients could be screened for HS using the automated reticulocytes parameters on a DxH800. Moreover, in a reference laboratory, those parameters could be integrated in the first steps of the HS diagnosis algorithm. 
Session topic: 28. Enzymopathies, membranopathies and other anemias