Abstract: PS1196
Type: Poster Presentation
Presentation during EHA24: On Saturday, June 15, 2019 from 17:30 - 19:00
Location: Poster area
Background
Rare anemia (RA) embrace a highly heterogeneous group of ultra-rare disorders which severe forms are life-threatening with complex genotype-phenotype correlations. Both conventional and NGS present bottlenecks.
Aims
To establish an integrative diagnostic algorithm encompassing conventional and new methodologies for reducing the number of misdiagnosed/undiagnosed cases.
Methods
53 patients with chronic hemolytic/hyporegenerative anemia included and categorized based on a) clinical criteria b) EMA-Binding test (EBT) and osmotic gradient ektacytometry (LoRRca) and c) t-NGS (69 disease causing and candidate genes).
EBT conventional cut-off for Hereditary Spherocytosis (HS) was used (decreased fluorescence >21%). LoRRca cut-offs already established by the group. Genetic variants (coverage >100x) were annotated on variant effect and MAF and IGV assessed. Disease causing variants on inheritance pattern and VarSome plus Human Splicing Finder. Interpretation and nomenclature according to ACMG. t-NGS was considered as gold standard for conclusive diagnosis and tests sensitivity.
Results
Clinical orientation/conclusive diagnosis correlation is shown in the figure.
HS oriented patients were stratified according to CPG: 1 to 4 HS diagnosis criteria (family history, peripheral spherocytes, raised MCHC, % hyperdense). Only 5/43 oriented HS patients fulfill all criteria, in which EBT, LoRRca and t-NGS confirmed HS diagnosis. EBT was HS positive in 31 of 38 remaining cases (81.6%) while LoRRca showed HS pattern in the 38. After t-NGS, conclusive HS diagnosis was reached in 36 of the 38 cases. 5 of them also showed a disease causing mutation on RBC enzymes. 2 cases remained undiagnosed, both with EBT and LoRRca HS compatible profiles. In addition, correlation among EBT and HS causative genes showed lower range of values (x=-19%) for SPTA1 variants in contrast with SLC4A1 variants (x=-35%). Five from 6 clinically oriented as Hereditary Elliptocytosis (HE) were confirmed by t-NGS, resulting in 3 HE and 2 sever forms, Hereditary Piropoikilocytosis (HPP). EMA BT was HS positive in one HPP case showing a double population. LoRRca showed HE profile in 5 cases and HS profile in 1 case corresponding with the third undiagnosed case which showed a disease causing CDAN1 variant and a SPTB VUS in heterozygous status. One case oriented ad Hereditary Xerocytosis (HX) was diagnosed by both, LoRRca and t-NGS, with a mild form of HX. From the two cases oriented as chronic non-spherocytic hemolytic anemia, 1 was diagnosed by t-NGS as HX (LoRRca and EBT negative) and 1 correspond with the fourth undiagnosed case which presented EBT in the "gray zone" and non-conclusive LoRRca profile. In 1 patient with compensated hemolysis, conclusive diagnosis was reached based on a HBA1 variant coding for an unstable Hb (Evans) causing mild hemolytic anemia. Genetic diagnosis of 92% (49/53) of the included cases could be determined. The 4 undiagnosed patients will be further analyzed by 33 candidate genes and WES (ERN-EuroBloodNet –SOLVE). LoRRca showed a sensitivity of 100% for HS (83% for HE). EBT showed a total sensitivity of 85% for HS (cut-off >21%) while increasing the cut-off to >16% would increase sensitivity to 93% without increasing false positive, confirming results already reported (Llaudet, 2017).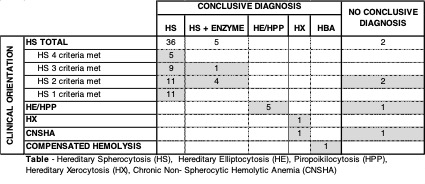 Conclusion
Establishing an integrative harmonized diagnostic algorithm, including LoRRca and t-NGS has been revealed essential for high diagnosis performance and reduce misdiagnosis, thus, directly impacting on better personalized diagnosis for RA.
Session topic: 28. Enzymopathies, membranopathies and other anemias
Keyword(s): Anemia, Diagnosis, Genetic