Abstract: PS1195
Type: Poster Presentation
Presentation during EHA24: On Saturday, June 15, 2019 from 17:30 - 19:00
Location: Poster area
Background
Bosutinib showed improved efficacy vs imatinib for newly diagnosed chronic phase chronic myeloid leukemia (CP CML) in the ongoing BFORE trial (NCT02130557). Gastrointestinal events and transaminase increases were more frequent with bosutinib; musculoskeletal events and edema were more common with imatinib. Improvement or preservation of health-related quality of life (HRQoL) was seen in both treatment arms after 12 months.
Aims
In post hoc analyses, we examined time to improvement of HRQoL with bosutinib or imatinib.
Methods
HRQoL was assessed at study visits with the patient-reported Functional Assessment of Cancer Therapy–Leukemia (FACT-Leu) questionnaire. Nonparametric models (with SAS Proc Lifetest) were used to estimate median times to transient improvement (any increase in a FACT-Leu domain score from baseline) and sustained improvement (any increase for 2 consecutive visits) of HRQoL.
Results
Median times to transient improvement of FACT-Leu scores were similar with bosutinib and imatinib (Table). Median time to sustained improvement was numerically shorter with bosutinib for FACT-Leu total, FACT-General (FACT-G) total, emotional well-being and leukemia subscale scores. Differences between treatment arms for both models (transient or sustained events) were not statistically significant (P>0.05).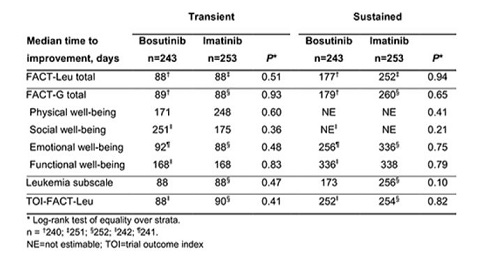 Conclusion
Median time to HRQoL improvement was comparable with bosutinib and imatinib, suggesting differences in rates of specific side effects of individual tyrosine kinase inhibitors for CP CML do not necessarily translate into measurable differences in patient-reported HRQoL.
Session topic: 8. Chronic myeloid leukemia - Clinical
Keyword(s): Chronic myeloid leukemia, Clinical trial, Quality of life, Tyrosine kinase inhibitor