Abstract: PS1172
Type: Poster Presentation
Presentation during EHA24: On Saturday, June 15, 2019 from 17:30 - 19:00
Location: Poster area
Background

Only few prognostic factors - the median duration of treatment or of deep molecular response (DMR) - have so far been associated to a positive outcome after TKI discontinuation in chronic myeloid leukemia (CML) patients. Thus, the identification of candidates that may impact on this primary treatment endpoint remains elusive. Digital droplet PCR (ddPCR) is an accurate molecular tool that could prove advantageous for the quantification of the BCR-ABL1 fusion transcript copy number compared to classic RQ-PCR and could help in better identify patients candidate for TKI discontinuation.
Aims

To evaluate the predictive role of ddPCR in CML patients in sustained DMR tested at the time of TKI treatment discontinuation.
Methods

We studied 50 RNA samples of CML patients who discontinued treatment while in RQ-PCR undetectable DMR (MR4-4.5) according to IS for more than 2 years. The ddPCR assay was performed in triplicate using the Biorad-QX200 platform. To test the BCR-ABL fusion transcript and ABL control gene, we used the same primers and probes used in the standard RQ-PCR reaction. Each reaction mixture was partitioned into approximately 20,000 droplets and then amplified. Cycled droplets were read in the QX200 droplet-reader and analysis of the ddPCR data was performed using the QuantaSoft analysis software (Biorad Laboratories GmbH, Munich, Germany). We collected the clinical follow-up data from the patients' medical history and correlated them with ddPCR positivity or negativity at the time of discontinuation using the Wilcoxon signed-rank test.
Results

Fifty patients discontinued treatment in DMR after a median duration of response of 2.5 years (range 1.5-7.2). The median age was 59 years (range 32-87.4), 33 were female. According to the Sokal risk at baseline, 25 patients were classified as low risk, 21 as intermediate and 4 as high risk. Forty-two patients received front-line imatinib and 8 were treated with second generation TKIs. The median duration of treatment before discontinuation was 11.9 years (range 3.3-17.9). At the time of discontinuation, 28 patients (56%) were ddPCR-negative and 24 of them (86%) remained in treatment-free remission (TFR), while 4 patients (14%) relapsed after a median time of 5.5 months (range 4.0-27.0). Twenty-two patients (44%) were ddPCR positive at the time of discontinuation: 12 of them (55%) remained in TFR after a median time of observation of 13.2 months, while 10 patients (45%) relapsed after a median of 3.5 months (range 1.0-16.0). The difference in TFR rate between the two groups is statistically significant (p=0.026, Figure 1). We compared the characteristics of ddPCR-negative versus ddPCR-positive patients and failed to detect differences in the type of transcript (p=0.155), Sokal risk score (p=0.684), previous IFN treatment (p=0.70), type of TKI received (p=0.250), median duration of TKI treatment (10.9 years in positive versus 13.1 years in negative patients, p=0.639) and median duration of DMR (2.4 years in positive versus 2.8 years in negative patients, p=0.134).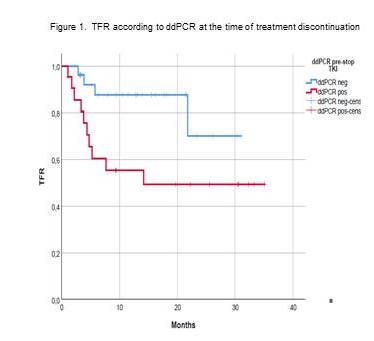 Conclusion

These results suggest that by ddPCR it is possible to predict the TFR outcome of CML patients in DMR (MR4-4.5) at the time of TKI discontinuation. This method, compared to RQ-PCR, appears to be superior in terms of quantification of low levels of residual disease in patients who have already achieved a DMR and may successfully identify candidates to treatment discontinuation.
Session topic: 7. Chronic myeloid leukemia - Biology & Translational Research
Keyword(s): Chronic myeloid leukemia, Molecular response, Tyrosine kinase inhibitor