Abstract: PS1165
Type: Poster Presentation
Presentation during EHA24: On Saturday, June 15, 2019 from 17:30 - 19:00
Location: Poster area
Background
Venetoclax (Ven) is an orally bioavailable potent, selective BCL-2 inhibitor that achieves an overall response rate (ORR) of 77%, with 20% complete response (CR), as a monotherapy in patients (pts) with CLL (Stilgenbauer et al. JCO 2018). In 2016, the European Medicines Agency approved Ven monotherapy for the treatment of pts with CLL with or without del17p or TP53 mutation who either are unsuitable for or have failed a prior B-cell receptor (BCR) pathway inhibitor, or who have failed chemoimmunotherapy and a BCR pathway inhibitor, respectively. Before approval, Ven was available to pts through PAA programs.
Aims
A retrospective chart review was conducted to determine the real-world effectiveness, safety, and tolerability of Ven in pts enrolled in PAA programs in France, Germany, and the United Kingdom.
Methods
Pts with CLL with or without del17p or TP53 mutation who failed or were ineligible for approved therapies or reasonable alternatives were treated on PAA programs in 2016. Pts were included if they received ≥1 dose of Ven. The data cutoff was 1 October 2018. Dosing started at 20 mg/d and ramped up weekly to 50, 100, 200, and 400 mg/d over 5 weeks. The objective was to determine safety, ORR, overall survival (OS), and pts remaining on treatment at 52 weeks.
Results
Forty-seven pts were enrolled with a median age of 68 y (range, 48–90) and a median of 4 prior therapies (range, 0–11) of which 92% received at least 1 prior line of BCR inhibitor; 36% had del17p, 30% had TP53 mutation, and 21% had a high risk for tumor lysis syndrome (TLS) before Ven treatment. Forty-six pts (98%) received TLS prophylaxis with anti-uric acid drugs including 16 pts with rasburicase. During Ven ramp-up, 2 pts (4%) required dose reductions and 6 (13%) required dose interruptions, primarily due to adverse events (AEs). Thirty-six pts (77%) received doses of ≥400 mg of Ven. The most common AEs were neutropenia in 7 (15%), diarrhea in 5 (11%), and asthenia in 3 (6%) pts; 2 pts (4%) had febrile neutropenia, and 1 pt had a fatal AE of progressive multifocal leukoencephalopathy. Laboratory TLS occurred in 4 pts (9%; only 1 was clinical TLS) with a median time to onset of 2.5 wks (range, 1–4). With a median time on drug of 41 wks (range, 1–90), the ORR was 57%, with 12 pts (26%) achieving a CR or CR with incomplete marrow recovery (Table). Eighteen MRD tests (flow cytometry or PCR) for minimal residual disease (MRD) were done in 11 pts, with 7 tests done at <24 wks, 4 between 24 and 36 wks and 4 beyond 36 wks. Seven tests were MRD negative (6 by peripheral blood and 1 by bone marrow assessment) at 52 wks. Eighteen pts (38%) remained on treatment and 29 discontinued therapy at 52 weeks: 8 from progressive disease, 4 from AEs, and 17 from other reasons including death (7), pt decision (5), other treatment options (2), progression post-allogenic stem cell transplant (1), stable disease (1) and unknown (1). Median OS was 73 wks (95% CI: 42, not reached).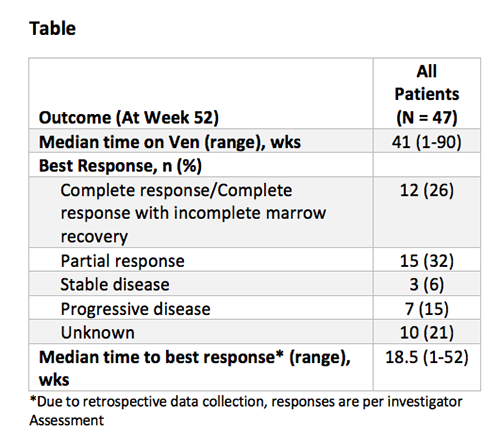 Conclusion
Outside of clinical studies, the safety profile of Ven, including the rate of TLS, was consistent with that observed in clinical trials. TLS prophylaxis was used in 98% of pts. ORR and OS were lower than results seen in other real-world evidence trials, such as that reported by Mato, et al. (57% vs 72%; Mato, et al. Haematologica 2018), which could be the result of unknown responses in 21% of pts and the heavily pre-treated population studied here. CR/CRi rates were consistent with previously published experiences with Ven in CLL (26% vs 20%; Stilgenbauer, et al. J Clin Oncol 2018).
Session topic: 6. Chronic lymphocytic leukemia and related disorders - Clinical
Keyword(s): BCL2, Chronic lymphocytic leukemia, Targeted therapy