Abstract: PS1164
Type: Poster Presentation
Presentation during EHA24: On Saturday, June 15, 2019 from 17:30 - 19:00
Location: Poster area
Background

Around the early 1990s, the purine nucleoside analogs (PNAs) cladribine (Piro, N Engl J Med, 1990) and pentostatin (Kraut, J Clin Oncol, 1989) revolutionized the treatment of hairy cell leukemia (HCL), a rare B-cell derived lymphoproliferative malignancy. As a result, most patients with HCL can look forward to a normal life expectancy (Dinmohamed, Blood, 2018). However, information lacks on the contribution of PNA treatment on population-level survival for HCL across Europe. 
Aims
Therefore, we conducted a population-based study to assess relative survival (RS) among patients diagnosed with HCL across Europe.
Methods

We selected all patients diagnosed with HCL in Europe between 2000 and 2007 from the publicly available RARECAREnet database that holds data from 94 cancer registries across 27 European countries (http://www.rarecarenet.eu). Follow-up for survival was established up to January 1, 2009. Five-year RS was the primary endpoint. We estimated 5-year RS, with corresponding 95% confidence intervals (CIs), according to European region using the traditional cohort approach. RS is defined as the ratio of the overall survival of patients to the expected survival (ES) of a comparable group from the general population, matched to the patients with respect to age, sex, and time-period. ES was estimated by the Ederer II method using country/registry-specific lifetables, stratified by age, sex, and time-period. RS was calculated for five European regions¾namely (i) the UK and Ireland, and (ii) northern, (iii) central, (iv) southern, and (v) eastern Europe)¾by pooling cases from the equivalent countries/registries.
Results

Our analytical cohort included 4,387 patients with HCL, of whom 35%, 33%, 19%, 10%, and 3% from the UK and Ireland, and central, southern, eastern, and northern Europe, respectively. Overall, 5-year RS was 90 (95% CI, 88%>91%) in Europe, with higher RS in males (92%, 95% CI, 90%>94%) than females (84%, 95% CI, 80%>87%). Survival varied, albeit slightly across Europe, with 5-year RS of 87% (95% CI, 84%>90%), 88% (95% CI, 83%>93%), 88% (95% CI, 86%>91%), 93% (95% CI, 91%>95%), and 94% (95% CI, 86%>100%) in southern Europe, eastern Europe, the UK and Ireland, central Europe, and northern Europe, respectively. Also, as shown in Figure 1, survival varied across countries, especially in Slovenia when compared to the European average. However, particular country-specific estimates should be interpreted with caution, as small sample sizes increase the wideness of 95% CIs.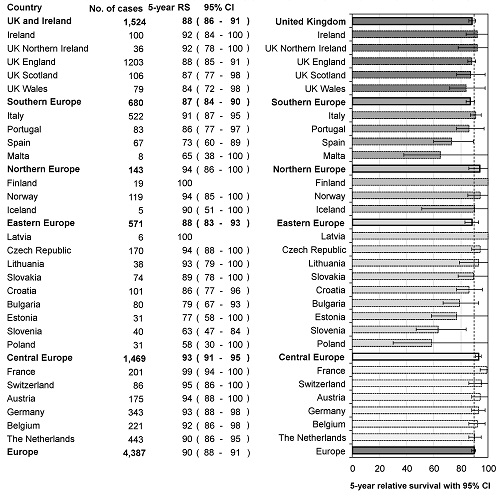 Conclusion

Collectively, in this large population-based study, we demonstrated that excess mortality in HCL is comparatively low in Europe. However, modest survival disparities still exist across Europe in an era with well-established PNA therapy. This might possibly suggest that access to or provision of PNA therapy is not entirely uniform across Europe. The current study provides a benchmark to assess whether survival inequities across Europe will diminish over time and excess mortality will decrease for this highly treatable malignancy through augmented access and provision of care.
Session topic: 6. Chronic lymphocytic leukemia and related disorders - Clinical
Keyword(s): Epidemiology, Population, Survival