Abstract: PS1153
Type: Poster Presentation
Presentation during EHA24: On Saturday, June 15, 2019 from 17:30 - 19:00
Location: Poster area
Background
Comorbidities influence survival in patients (pts) with CLL treated with chemo-immunotherapy (CIT) or ibrutinib.  While IDELA has been studied in patients with comorbidities, the impact of comorbidities on survival and tolerance to therapy with IDELA is unknown.  
Aims
We report outcomes using the Cumulative Illness Rating Scale (CIRS) in pts with relapsed or refractory (R/R) CLL who were treated with IDELA on clinical trials in an effort to better define the population who may benefit the most from IDELA, or, by contrast, require closer monitoring while on the drug.
Methods
We analyzed pts with R/R CLL enrolled on trials NCT01659021 (n=261) and NCT01539512 (n=32), which were both randomized phase 3 trials of IDELA+anti-CD20 vs anti-CD20. CIRS was recorded at screening. Pts deemed eligible for study NCT01539512 due to CIRS >6 were excluded. Total CIRS and CIRS-3+ (a score of 3-4 in any organ system) were assessed.  Impact of total CIRS score or a CIRS score of 3-4 in any organ system (CIRS-3+) was assessed by the Kaplan-Meier method and Cox model to estimate OS and PFS.
Results
293 patients were included, treated with IDELA+anti-CD20 (n=186) or anti-CD20 alone (n=107). The median age was 68 years (range, 36-90). Median number of prior lines of therapy was 3 (range, 1-11).  Del(17p) or TP53 mutation were present in 41% and unmutated IGHV in 80% of pts.  Median CIRS was 4 (range, 0-17), 27% had CIRS>6 and 11% CIRS-3+. Patients who had minimal comorbidities (CIRS≤6) had better ORR in the IDELA+anti-CD20 cohort (89% vs. 72%, p =0.01), but not in the anti-CD20 group.  In the IDELA+anti-CD20 cohort CIRS≤6 was associated with improved median PFS (19.5 vs 13.6 months; p= 0.03) and OS (not reached vs 32 months; p=0.01; Figure 1A and B).  Severe comorbidities (CIRS-3+) were associated with decreased median OS in both IDELA+anti-CD20 and anti-CD20 cohorts (26 vs 42 months; p=0.03 and 9 vs 31 months; p=0.01, respectively) and with decreased median PFS in the anti-CD20 cohort (3.5 vs 7.8 months, p=0.02); however, CIRS-3+ did not predict inferior PFS in the IDELA+anti-CD20 cohort.
In a confirmatory analysis using a Cox model, CIRS>6 was associated with inferior PFS (HR= 1.56, p=0.03) and OS (HR= 1.62, P=0.04) in the IDELA+anti-CD20 cohort.  CIRS-3+ was associated with inferior OS in both cohorts but did not influence PFS. In a Cox model adjusted by treatment group in addition to the baseline covariates, CIRS-3+ retained significance while CIRS>6 did not. CIRS score did not influence therapy discontinuation, dose interruption or dose reductions in the IDELA+anti-CD20 cohort.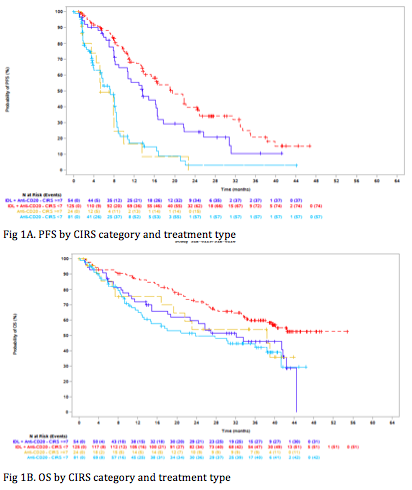 Conclusion
Pts with no or minimal comorbidities have favorable outcomes when treated with IDELA and anti-CD20 therapy.  While presence of severe comorbidities negatively impacts overall survival regardless of therapy, such patients still benefit from the addition of IDELA to anti-CD20 therapy. Interestingly, unlike ibrutinib (Gordon et al, 2018), comorbidities do not impact IDELA dose interruption/reduction or therapy discontinuation, indicating that the mechanism(s) by which comorbidities lead to inferior outcomes may differ between treatment types. Pts with CLL who have comorbidities continue to represent an unmet medical need
Session topic: 6. Chronic lymphocytic leukemia and related disorders - Clinical
Keyword(s): Comorbidities, Idelalisib, Monoclonal antibody, Outcome