Abstract: PS1151
Type: Poster Presentation
Presentation during EHA24: On Saturday, June 15, 2019 from 17:30 - 19:00
Location: Poster area
Background
In patients with chronic lymphocytic leukemia (CLL) treated with the Bruton tyrosine kinase (BTK) inhibitor ibrutinib, intolerance was the most common reason for discontinuation (50% to 63%; Mato AR, et al. Haematologica. 2018). 
Aims
This Phase 2 trial evaluated acalabrutinib, a highly selective, potent, covalent BTK inhibitor, in ibrutinib-intolerant patients with relapsed/refractory CLL.
Methods
Patients with relapsed/refractory CLL (≥1 prior therapy) who discontinued ibrutinib due to Grade 3/4 adverse events or persistent/recurrent Grade 2 adverse events and had progressive disease after ibrutinib discontinuation were eligible. Acalabrutinib was given orally at 100 mg twice daily in 28-day cycles until progressive disease or unacceptable toxicity. The primary endpoint was overall response rate (ORR).  
Results
Sixty patients were treated. The median age was 70 years (range, 43 to 88). Patient characteristics included bulky disease ≥5 cm (33%), Rai stage III/IV (47%), del17p (28%), del11q (23%), and unmutated IGHV (79%). Fifty-two of 55 patients (95%) with available baseline samples were wild type for BTK and PLCG2. The median number of prior therapies was 2 (range, 1 to 10). The median duration of prior ibrutinib therapy was 6 months (range, <1 to 55); common adverse events that led to ibrutinib discontinuation were atrial fibrillation/flutter (25%), diarrhea (12%), arthralgia (10%), and rash (12%). At a median follow-up of 19 months (range, 1 to 31), 67% of patients remain on acalabrutinib; discontinuations were mostly due to progressive disease (13%) and adverse events (10%; pneumonia [n=2], diarrhea, headache, ascites, arthralgia, subdural hematoma [all n=1]). Efficacy outcomes are in the Table. Common adverse events (any grade) were diarrhea (48%), headache (40%), contusion (35%), and dizziness (32%). Serious adverse events (≥2 patients) were pneumonia (10%), anemia (3%), and syncope (3%). Atrial fibrillation occurred in 3 patients (5%; all Grade 1/2) and major hemorrhage in 2 (3%; Grade 3 hematuria and Grade 2 subdural hematoma). Grade 5 adverse events were pneumonia (n=2), bronchopulmonary aspergillosis (n=1), and ventricular fibrillation (n=1); all were considered not related to treatment.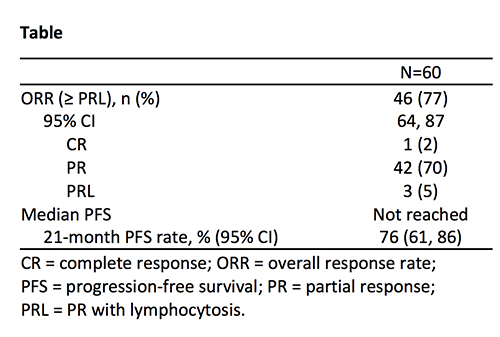 Conclusion
Acalabrutinib is tolerable and effective in ibrutinib-intolerant patients, providing a viable strategy for continuing BTK inhibitor therapy.
Session topic: 6. Chronic lymphocytic leukemia and related disorders - Clinical
Keyword(s): Clinical trial, Kinase inhibitor