Abstract: PS1149
Type: Poster Presentation
Presentation during EHA24: On Saturday, June 15, 2019 from 17:30 - 19:00
Location: Poster area
Background
Patients (pts) with chronic lymphocytic leukemia (CLL) suffer morbidity and mortality from CLL and increased risk for second primary neoplasia (SPN). BTK inhibitors (BTKi) are highly effective for the treatment of CLL and are associated with partial restoration of immune function with ongoing treatment. The impact of BTKi on the risk for and patterns of SPN is yet to be characterized.
Aims
We aimed to determine the incidence of SPN including NMSC in a cohort of CLL pts treated with either ibrutinib or acalabrutinib at a single center, assess for association between baseline clinical characteristics and SPN incidence, and compare the observed with the expected incidence for sex and age matched controls within the Surveillance, Epidemiology, and End Results Program (SEER) database. 
Methods
CLL pts treated with ibrutinib or acalabrutinib at our center were identified retrospectively. Baseline and outcome data were collected including incidence of Richter's transformation (RT), non-melanoma skin cancer (NMSC), and SPN.
Standard incidence ratio (SIR) with 95% confidence intervals (CI) were calculated using expected incidence rates from the SEER, assuming a Poisson distribution for the observed incidence. Cumulative incidence rate (CIR) of SPN (excluding RT and NMSC) was calculated from BTKi start date to the diagnosis of SPN; death was a competing risk and pts without event were censored at last follow-up. SPN was correlated with baseline data using the Fine-Gray model.   
Results
691 pts were included; the median age was 64 years, median prior lines of treatment was 2 (20% treatment-naïve, 66% with prior chemo-immunotherapy), and 56% were never smokers. At a median follow-up of 44 months, 68 pts (10%) were diagnosed with SPN (SIR 2.4, CI 1.9-3.0) including 13 lung (SIR 3.2, CI 1.7-5.5), 9 melanoma (SIR 6.9, CI 3.1-13), 9 prostate (SIR 1.4, CI 0.6-2.6), 7 bladder (SIR 5.2, CI 2.1-10.6), 4 breast (SIR 1.7, CI 0.5-4.5), and 3 kidney cancers (SIR 2.9, CI 0.6-8.5). CIR of SPN at 3 year was 7.6% (Table). Smoking (hazard ratio (HR) 2.9, CI 1.7-5.0, p<.01) and low baseline CD8 count (HR 0.9 for 2-fold increase, CI 0.8-0.9, p<.01) were associated with higher incidence of SPN. RT was diagnosed in 58 pts (8%) and NMSC in 138 pts (20%). 179 pts had died with 3 year overall survival of 79% (CI 76-82); the most common causes of death were CLL/RT (57%) and SPN (13%).
CIR of Second Cancers
| | | |
| --- | --- | --- |
|   | NMSC % (95% CI) | Other SPN % (95% CI) |
| 1 year | 7.5 (5.7-9.7) | 2.1 (1.2-3.4) |
| 3 year | 15.6 (12.8-18.5) | 7.6 (5.7-9.9) |
| 5 year | 23.0 (19.2-27.1) | 11.5 (8.7-14.8) |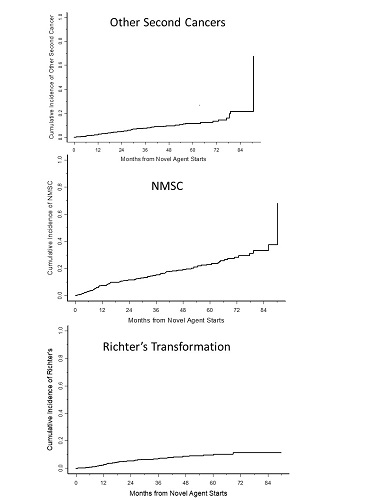 Conclusion
The incidence of SPN in pts treated with BTKi for CLL is increased relative to the general population. With a 5 year CIR of NMSC and SPN of 23% and 12% respectively, these data support consideration of intensive cancer screening for CLL pts receiving BTKi.
Session topic: 6. Chronic lymphocytic leukemia and related disorders - Clinical
Keyword(s): B-CLL, Clinical outcome, Ibrutinib, Second malignancy