Abstract: PS1141
Type: Poster Presentation
Presentation during EHA24: On Saturday, June 15, 2019 from 17:30 - 19:00
Location: Poster area
Background
Chronic lymphocytic leukemia (CLL) follows a highly variable clinical course. Predicting subsets of patients who will respond to a given therapy would improve health care efficacy. In recent years several molecular and cellular markers (chromosomal abnormalities including deletions and mutations, CD38, ZAP-70, β2-microglobulin, and IGHV mutational status) have been correlated with disease aggressiveness, and are partly being used for stratification of subjects into risk groups. Since many CLL cases show discordant prognostic factors, the identification of new parameters able to relate disease stage and clinical outcome is important to further improve treatment efficacy.
Aims
To examine the prognostic ability of a) known proteomics markers measured pre-treatment; with special interest in previously identified B-cell activation markers (sCD23, sCD27, CXCL13), and b) to search for new proteomics markers that might be related to treatment response.
Methods
Study subjects were treated in the HOVON-109 clinical study (a phase I/II trial in 63 CLL patients designed for efficacy and safety of first-line therapy involving chlorambucil, rituximab and lenalidomide). Total treatment duration was 12 months and all patients were followed until 5 years after registration. Fifty-one eligible patients with an available sample at baseline were included in the current study. Serum samples were analyzed for 360 proteomics markers using a multiplex proximity extension assay (Olink Bioscience, Uppsala, Sweden). Kaplan-Meier curves and Cox proportional hazards models were used for testing independent and additive effects of the markers for event-free survival (EFS; time from registration to induction failure, progression or death from any cause, whichever comes first).
Results
Thirty male and 21 female patients were included with mean age of 71 years. Median EFS was 23 months (26 events). Female and IGHV mutated patients showed longer EFS than male and unmutated patients. No significant survival effects were seen for β2-microglobulin levels, Rai stage, or well-defined chromosomal aberrations. The latter finding may be due to the small number of aberrations; del17p13 (n=7), del13q14 (n=24), del11q22 (n=7), tri12 (n=11).
Among B-cell activation markers, the sCD23 level was associated with EFS in the univariate (β=0.45, p=0.04) and adjusted models (β=-1.49, p=0.07). Patients with sCD23 levels above median had a shorter EFS than those with the marker levels below the median (Figure).There was a significant interaction effect between sCD23 and IGHV mutational status (β=1.01, P=0.04) as unmutated IGHV patients with sCD23 levels above the median had the lowest EFS (Figure). Several other evaluated proteomics markers were significantly associated with EFS in univariate and adjusted models, albeit, none remained significant after multiple testing correction. Among the top 6 proteomics markers in univariate and adjusted models, SPINT1 and LY9 levels equal or lower than median were correlated with a significantly longer survival. Added prognostic value of the potential proteomics markers compared with a basic model including gender and IGHV status was evaluated, showing a significant independent effect on EFS for especially sCD23, SPINT1, and LY9 (Figure).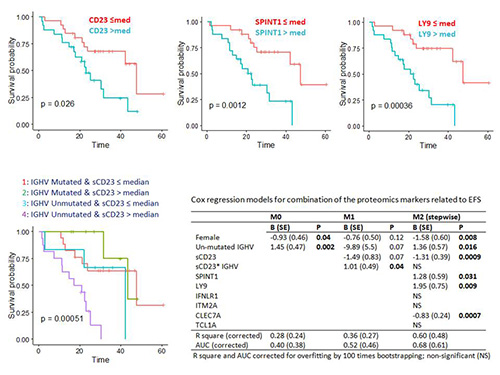 Conclusion
Our study suggests a possible prognostic role for sCD23 (probably released from activated B-cells), LY9 (probably from CD4+ T helper cells), and SPINT1 (a potent inhibitor specific for HGF activator) in CLL patients in this clinical trial. Further studies are required to validate these results.
Session topic: 5. Chronic lymphocytic leukemia and related disorders - Biology & Translational Research
Keyword(s): Chronic lymphocytic leukemia, Prognostic factor, Proteomics, Survival prediction