Abstract: PS1140
Type: Poster Presentation
Presentation during EHA24: On Saturday, June 15, 2019 from 17:30 - 19:00
Location: Poster area
Background

T-large granular lymphocytes leukemia (T-LGLL) is a rare lymphoproliferation of clonal T-LGL. Activation of STAT pathways, either sustained or not by STAT3 or STAT5b mutations, mediates the survival of leukemic LGL within a chronically stimulated pro-inflammatory microenvironment. We have identified a linkage between neutropenia, i.e. the major clinical manifestation, immunophenotype and incidence of STAT3 mutations in CD8+ T-LGLL. CD4+ T-LGLL is instead characterized by the presence of STAT5b mutations and an indolent course. Therefore, four T-LGLL subsets can be identified: CD8+ neutropenic (mostly STAT3 mutated), CD8+ wild type (wt) non-neutropenic, CD4+ STAT5b mutated and CD4+ wt. Several soluble factors account for the pro-inflammatory environment as IL-6 and CCL5, which are found at high concentrations in LGLL patients' plasma. IL-6 sustains LGL survival through STAT3 activation and it is expressed by the non-clonal fraction of peripheral blood mononuclear cells (PBMC), as well as its specific receptor, IL-6Rα. The precise CCL5 role in T-LGLL has not been defined yet, but interestingly CCR5, one of its receptors, is down-regulated on LGL of neutropenic patients.
Aims

Since dysfunctions of non-pathological cells were reported both in autoimmune and hematological disorders, we aimed to better characterize the role of T helper 17 (Th17) and regulatory (Treg) lymphocytes and monocytes in T-LGLL patients.
Methods

The ratio Th17/Treg and the categorization of classical (CD14++/CD16-), intermediate (CD14+/CD16±) and non-classical (CD14±/CD16++) monocytes were determined by flow cytometry. Immunomagnetically purified LGL and monocytes were analysed by RT-qPCR either freshly or after stimulation with IL-6 (20 ng/μl) or CCL5 (100 ng/μl) for 12 hours. 30 patients representative of all T-LGLL sub-types and 6 healthy controls were analysed.
Results

The Th17/Treg ratio was increased in T-LGLL cases compared to healthy controls, with the only exception of CD8+ wt non-neutropenic patients (Fig. 1A). Interestingly, the imbalance was related to increased Th17 in CD8+ neutropenic subset, to reduced Treg in the CD4+ wt ones and to both events in CD4+ STAT5b mutated T-LGLL patients. Monocytic classes distribution was consistent with healthy controls in every T-LGLL subset, whereas in CD8+ neutropenic patients was observed a simultaneous reduction in classical and increase of intermediate and non-classical monocytes (Fig. 1B). Of note, CD8+ neutropenic patients included either STAT3 mutated and wt cases sharing immunophenotype, inflammatory status and symptoms, suggesting that a deeper genetic analysis on STAT3 related genes is needed. Monocytes derived from patients with a conserved classes distribution overexpressed IL-6, IL-6Rα and CCR5, whereas autologous LGL were the main producers of CCL5 among PBMC. This peculiar pattern of expression infers a potential communicating loop between the two populations, which was confirmed by ex-vivo culture from T-LGLL patients but not from healthy controls; in fact, IL-6 stimulated LGLs to express CCL5 which in turn induced monocytes to express IL-6 and IL-6Rα.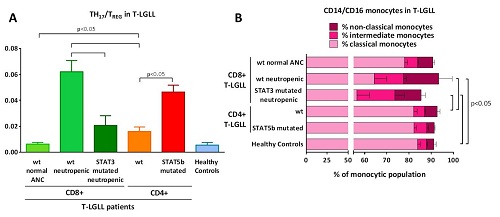 Conclusion

The finding of deregulated cells populations in the microenvironment improved the knowledge of the biology of T-LGLL neutropenic patients and provided new pathogenetic clues for the indolent subsets. Moreover leukemic LGL and monocytes are connected through a disease-specific loop. Taken together, these data suggest that microenvironment might be regarded as a possible new therapeutic target for T-LGLL, a disorder still orphan of curative drugs.
Session topic: 5. Chronic lymphocytic leukemia and related disorders - Biology & Translational Research
Keyword(s): Microenvironment