Abstract: PS1133
Type: Poster Presentation
Presentation during EHA24: On Saturday, June 15, 2019 from 17:30 - 19:00
Location: Poster area
Background

Cytogenetic complexity assessed by chromosome banding analysis is linked to survival in chronic lymphocytic leukemia (CLL) patients treated with chemoimmunotherapy and targeted agents. Array-based copy number profiling uses isolated DNA as input and offers high-resolution genome-wide detection of copy-number alterations (CNAs). Although genomic arrays have been introduced clinically, their precise role in the prognostic assessment of CLL remains inconclusive.  
Aims

To determine the prognostic relevance of CNA assessment by genomic arrays in the clinical work-up of CLL.
Methods

In total, genomic array data of 2293 CLL patients from 13 diagnostic laboratories were analyzed retrospectively. Analyses were performed according to established standards [5 megabase (Mb) size cutoff for aberrations other than del(13)(q14), del(11)(q22.3) (ATM) and del(17)(p13.1) (TP53)]. In a subgroup of patients (n=260) genomic array results were compared with simultaneous FISH data.
Results

Analysis of genomic arrays identified CNAs outside regions captured by CLL FISH probes in 34.1% of patients and included chromosomal deletions (n=994), chromosomal gains (n=589), monosomies (n=69), and trisomies (n=62). Also, complex patterns (n=32) putative for chromothripsis were detected. In patients with simultaneous FISH data available, genomic array findings were overlapping with FISH in 92.2% (906/983) for regions captured by CLL FISH probes. In addition to confirming the adverse prognostic impact of gains of 2p (p<0.001) and 8q  (p<0.001) and loss of 6q (p=0.05) on overall survival, we showed that losses of 4p (p=0.01), 9p (p<0.001), 18p (p<0.001), 20p (p=0.03), and gain of 17q (p=0.03) were also linked to poor outcome. CLL patients could be grouped into three distinct prognostic subgroups based on the number of CNAs: 'low' genomic complexity (GC;0-2 CNAs; n=799), intermediate-GC (3-4 CNAs; n=123) and high-GC (≥5 CNAs; n=57). Low-GC was associated with a favorable clinical outcome (median OS: 10.17 years, 95% CI: 8.92-11.42 years) compared to intermediate-GC (median OS: 7.02 years, 95% CI 4.79-9.25 years, p=0.001) and high-GC, which displayed the shortest OS (median OS: 3.05 years, 95% CI: 1.14-4.96 years, p<0.001) (Figure). Similar results were observed for TTFT between the three different prognostic subgroups (p=0.001). Low-GC cases were associated with indolent disease (low incidence of TP53abn (del(17)(p13.1) and/or TP53 mutation) and del(11)(q22.3)) (p<0.001). Intermediate-GC cases were associated with a more advanced clinical stage compared to low-GC cases (p<0.001). High-GC cases were enriched for TP53abn (p<0.001) compared to intermediate-GC, and emerged as an independent adverse prognosticator in multivariable analysis for both time to first treatment (Hazard ratio: 2.15, 95% CI: 1.36-3.41; p=0.001) and overall survival (Hazard ratio: 2.54, 95% CI: 1.54-4.17; p<0.001).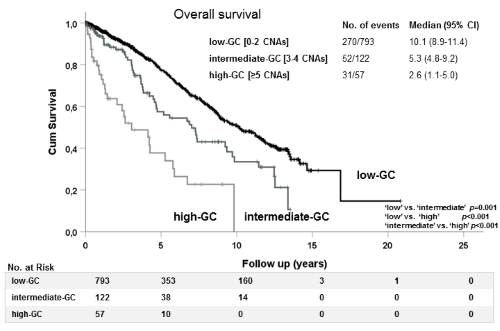 Conclusion

Our findings support genomic array as an accurate tool for CLL risk stratification. High-GC appears as a separate prognostically adverse risk group independent of other well-established CLL biomarkers. We, therefore, recommend implementation of comprehensive genomic profiling in future clinical trials.
Session topic: 5. Chronic lymphocytic leukemia and related disorders - Biology & Translational Research
Keyword(s): Complex aberrant karyotype, Cytogenetics, Prognostic factor