Abstract: PS1096
Type: Poster Presentation
Presentation during EHA24: On Saturday, June 15, 2019 from 17:30 - 19:00
Location: Poster area
Background
Peripheral T-cell lymphomas (PTCL) are a group of rare, aggressive and diverse lymphoproliferative disorder. When patients are in the relapsed/refractory setting, the survival is mostly less than 6 months.  Pralatrexate, a folate analogue metabolic inhibitor, was the first monotherapy approved to treat R/R PTCL patients. As the subtypes difference between western and eastern countries, we would like to investigate the efficacy/safety of pralatrexate in Taiwanese patients.
Aims
 This single-arm, multi-center study aims to demonstrate the efficacy/ safety of pralatrexate in R/R PTCL patients. The patients who undergo Hematopoietic Stem Cell Transplantation (HSCT) or not after pralatrexate will be also investigated individually.
Methods
Eligibility criteria included age ≧ 20 with PTCL according to the NCCN diagnosis criteria, the Revised European American Lymphoma (REAL), and WHO disease classification with the following  subtypes: Peripheral T-cell lymphoma, NOS (PTCL-NOS), Angioimmunoblastic T-cell lymphoma (AITL), Extranodal NK/T-cell lymphoma, nasal type (ENKL), Enteropathy-type T-cell lymphoma (EATL), Hepatosplenic T-cell lymphoma (HSTCL), Subcutaneous panniculitis-like T-cell lymphoma (SPTCL) and Adult T-cell lymphoma/leukemia (human T-cell leukemia virus [HTLV] 1+) (ATLL). Patients were documented disease progression after prior treatment. Intravenous pralatrexate was administrated weekly for 6 weeks in 7-week cycles up to 5 cycles with concurrent vitamin B12 and folic acid. Patients who complete at least 1 cycle of pralatrexate and have at least 1 post-treatment tumor assessment are defined as evaluable patients. The primary end point is Objective Response Rate (ORR, CR + PR). Secondary end points include Progression-Free Survival (PFS), Duration of response (DoR) and Overall Survival (OS).
Results
Twenty-two patients were evaluable for efficacy per protocol definition. The subtype distribution included PTCL-NOS (n = 9, 40.9%), AITL (n = 5, 22.7%), ENKL (n = 5, 22.7%), EATL (n = 1, 4.5%), SPTCL (n=1, 4.5%) and ATLL (n = 1, 4.5%).  The ORR was 54.5% with CR 18.2% (n=4) and PR 36.3% (n=8). When divided into 2 groups based on if patients received HSCT after pralatrexate, the ORR in HSCT group (n=5) was 60% with CR 20% (n=1) and PR 40% (n=2), while ORR in non-HSCT group (n=17) was 53% with CR 18% (n=3) and PR 35% (n=6). At the time of data cut-off, median PFS was 5 months (95% C.I. 5.51, 12.93), median DOR was 5.4 months (95% C.I. 2.64, 13.10) and OS not reached yet. It's notably that, among 5 patients that received HSCT successfully after pralatrexate, 4 patients are ENKL and the other is PTCL-NOS. Except one who experienced disease progression after HSCT, the others still remain in response. It indicated that pralatrexate may play a beneficial role in bridging to transplantation in PTCL patients, especially in ENKL. Safety population analysis (n=27) showed the most common TEAEs (grades 3-4) were: anemia (33%), stomatitis (26%), peripheral edema (22%), thrombocytopenia (15%) and leukopenia (11%).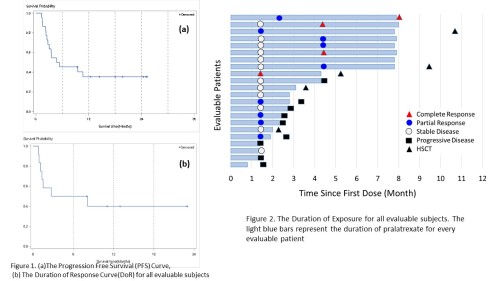 Conclusion
This interim update of this multi-center study demonstrated the efficacy of pralatrexate monotherapy in R/R PTCL is 54.5%. Interestingly, most ENKL patients received HSCT after obtaining good disease control with pralatrexate.  In addition, it showed tolerable safety profile.  This is the first data demonstrated benefits of pralatrexate in R/R PTCL patients with intention or no intention to receive transplantation.
Session topic: 19. Aggressive Non-Hodgkin lymphoma - Clinical
Keyword(s): Clinical trial, Peripheral T-cell lymphoma