Abstract: PS1095
Type: Poster Presentation
Presentation during EHA24: On Saturday, June 15, 2019 from 17:30 - 19:00
Location: Poster area
Background
CT-P10 is the first biosimilar of rituximab approved in Europe for treatment of rheumatic diseases and specific blood cancers including non-Hodgkin's lymphoma (NHL) and chronic lymphocytic leukaemia (CLL). To minimise the risk of infusion-related reactions (IRRs), the recommended rituximab administration protocol is a slow initial infusion rate with gradual up-titration; however, this can be time and resource intensive for patients and healthcare providers. Consequently, rapid infusion protocols are now used widely for second and subsequent infusions in patients with no serious complications from their first infusion. Rapid infusion of rituximab has been shown to be generally well-tolerated, with an IRR rate of 8.8% reported in a recent meta analysis (Polwart, 2017); however, there are limited data on the safety of rapid infusion of CT-P10.
Aims
To evaluate the safety and effectiveness of rapidly infused CT-P10 in patients with NHL or CLL in a real world clinical setting.
Methods
This non-interventional post-authorisation safety study is in progress in four European countries (United Kingdom [UK], Spain, France, Italy) and involves collection of data from the medical records of consenting adult patients with NHL or CLL who received rapidly-infused CT-P10 (i.e. a total infusion time of 90 minutes or less) during standard clinical care. The index date (day 1) is the date of the first rapid CT-P10 infusion, given in the second or a subsequent treatment cycle. Safety and effectiveness data are being collected for a 6 month observation period from the index date (or to death, if sooner). The primary outcome is incidence of IRRs on day 1 or day 2 post-index. Response to CT-P10 is as documented by the local investigator. Interim results are presented, based on a data cut on 18 January 2019. Where n is less than the total number of patients, data were missing.
Results
The interim analysis includes 110 patients enrolled from the UK and Spain. Ninety-eight patients (90%) have NHL (68 [62%] diffuse large B-cell lymphoma [DLBCL], 30 [28%] follicular lymphoma [FL]) and 11 (10%) have CLL (n=1 diagnosis missing). Other patient characteristics at index date: 66 (60%) male; median age 68 years (interquartile range [IQR] 59–74) (n=109); median disease duration 0.2 years (IQR 0.1–0.3) (n=109); 22 (20%) patients with prior NHL/CLL treatment recorded (n=109); Eastern Cooperative Oncology Group performance status (n=71): 0 (n=34, 48%), 1 (n=27, 38%), 2 (n=3, 8%), 3 (n=6, 8%) or 4 (n=1, 1%); Ann Arbor stage for NHL (n=52): I (n=4, 8%), II (n=5, 10%), III (n=7, 13%) or IV (n=36, 69%); Binet stage for CLL (n=7): A (n=4, 57%), B (n=1, 14%) or C (n=2, 29%). Eight of 106 patients with data available (8%) had IRRs recorded on day 1 or 2 post-index. Ten IRRs were reported (fatigue [n=3], oropharyngeal pain, vomiting, nausea, rash, headache, generalized oedema, peripheral oedema [all n=1]), of which 8 were grade 1 (mild), 1 was grade 2 (moderate) and 1 was grade 3 (severe [oropharyngeal pain during cycle 2, unlikely to be related to CT-P10 according to local investigator opinion]). Best responses to CT-P10 during the observation period are shown in Fig. 1.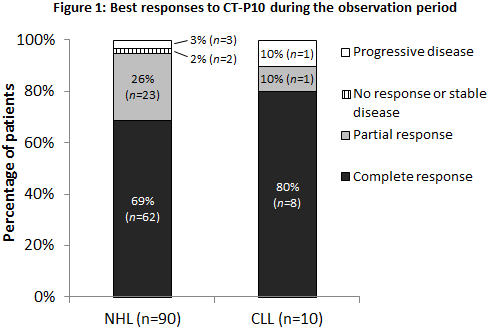 Conclusion
This is the first multi-country study to investigate the safety and effectiveness of rapidly infused CT-P10 in a real world setting. Early results suggest that the IRR rate for rapidly infused CT-P10 is similar to rates previously reported for reference rituximab.
Session topic: 19. Aggressive Non-Hodgkin lymphoma - Clinical
Keyword(s): Chronic lymphocytic leukemia, Non-Hodgkin's lymphoma, Rituximab, Safety