Abstract: PS1094
Type: Poster Presentation
Presentation during EHA24: On Saturday, June 15, 2019 from 17:30 - 19:00
Location: Poster area
Background
T-cell directed therapies (e.g. CAR-T, blinatumomab) are associated with significant risk of Grade (Gr) ≥3 neurotoxicity and CRS/infusion-related reaction (IRR). Mosunetuzumab is a CD20/CD3 bispecific antibody that directs T-cells to engage and eliminate malignant B-cells.
Aims
To report safety results from an ongoing Phase 1/1b study (NCT02500407) of mosunetuzumab in patients (pts) with R/R B-cell NHL.
Methods
Pts received ascending doses on Day 1, Day 8, and Day 15 of Cycle 1 (step-fractionation), then a fixed dose on Day 1 of every 21-day cycle thereafter, up to a maximum of 17 cycles. Primary outcome measures included safety and efficacy.
Results
As of October 23, 2018, 114 pts who received step-fractionated dosing of mosunetuzumab were evaluable for safety (Table). The majority of adverse events (AE) occurred during Cycle 1 and 2. Neurologic AEs (NAE), defined from Nervous System or Psychiatric System Organ Classes, were mostly low grade, transient (median duration 4 days) and reversible; most common were headache (14%) and dizziness (8%). Gr ≥3 NAEs occurred in 4 pts (4%), with only 1 treatment-related event (hepatic encephalopathy). CRS/IRR was reported in 25% of pts, with only 1 Gr 3 event. Most common CRS symptoms were pyrexia (86%), chills (38%), tachycardia and headache (14% each). There were no Gr 5 events related to CRS or NAEs. No apparent dose toxicity relationship was observed with step-fractionation in these pts, despite escalation of the Cycle 1 Day 15 dose to 20 mg, consistent with observed peak IL-6 levels after a low Cycle 1 Day 1 dose. In these pts, objective responses were observed in 24/73 (33%; complete response [CR], 13 [18%]) aggressive NHL and 17/32 (53%; CR, 10 [31%]) indolent NHL pts.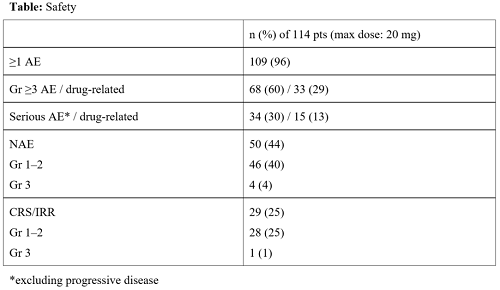 Conclusion
Step-fractionation has enabled continued dose escalation of mosunetuzumab with no apparent increases in toxicity, exhibiting a promising risk-benefit profile.
Session topic: 19. Aggressive Non-Hodgkin lymphoma - Clinical
Keyword(s): CD20, Immunotherapy, Non-Hodgkin's lymphoma, Safety