Abstract: PS1086
Type: Poster Presentation
Presentation during EHA24: On Saturday, June 15, 2019 from 17:30 - 19:00
Location: Poster area
Background

In Taiwan, according to Taiwan Cancer Registry, there are about 330 new cases of T-cell lymphoma each year, and angioimmunoblastic T-cell lymphoma (AITL) (14%) represents the third common subtype of T-cell lymphoma, secondary to peripheral T-cell lymphoma, not otherwise specified (28%) and NK/T-cell lymphoma (18%). The prognosis of AITL patients after conventional chemotherapy is poor, and their overall median survival is less than 3 years. Ras homolog family member A (RHOA) plays several roles in multiple T-cell functions, and the majority of RHOA mutation identified in AITL patients is glycine, at amino acid 17, replacing by valine (RHOA G17V), and loss-of-function mutant RHOA G17V inhibits the guanosine triphosphate binding to wild-type RHOA. Nonetheless, the roles of clinical impact of RHOA G17V expression in AITL are still controversial.
Aims
In this study, we use deep sequence to detect whether the presence RHOA G17V mutation or not have correlation to clinical presentations in AITL patients.
Methods
The patients with newly diagnosed AITL in National Cheng Kung University hospital were enrolled in this study. The diagnosis was based on the criteria established in the WHO classification. We retrospectively collected baseline characteristics of those AITL patients, included physical examination, laboratory data, bone marrow biopsy, and image study. Patients' characteristics were analyzed with χ2 tests to compare the differences between groups. Genomic DNA was purified from paraffin tissue blocks, and applied deep sequencing on Illumina MiSeq for detection of RHOA G17V mutation. The average sequencing depth was 7570.
Results
29 patients with AITL were included into this study. There are 19 (66%) male and 10 (34%) female patients with median age of 63 years. ROHA mutational analysis using deep sequence were performed, and 62% of AITL patients had RHOA G17V mutation. There was no statistically significant difference between the patients with or without RHOA G17V mutation. Patients without RHOA G17V had higher response rate to first-line chemotherapy (complete response [CR] and partial response [PR] rate: 88.9%) compared with patients with RHOA G17V mutation (43.8%). The 1-year and 2- year progression free survival (PFS) are 23.7% and 17.8% for patients with RHOA G17V mutation, and 80% and 57.1% for patients without RHOA G17V mutation, respectively (p=0.05). The 1-year and 2-year overall survival were as follows: 50% and 31.3% for RHOA G17V mutation patients, 63.6% and 45.5% for ROHA G17V wild-type patients (p=0.24).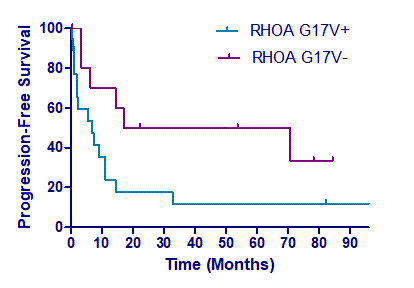 Conclusion
Our study revealed that RHOA could be detected in 62% of AITL patients by deep sequence. The patients without RHOA G17V mutation tend to have better response rate to chemotherapy, better PFS and OS compared to mutant RHOA G17V patients.
Session topic: 19. Aggressive Non-Hodgkin lymphoma - Clinical
Keyword(s): Lymphoma, Prognostic factor, Somatic mutation