Abstract: PS1084
Type: Poster Presentation
Presentation during EHA24: On Saturday, June 15, 2019 from 17:30 - 19:00
Location: Poster area
Background
Diffuse large B cell lymphoma (DLBCL) is one of the most frequent lymphomas diagnosed worldwide. High dose therapy (HDT) followed by autologous stem cell transplant remains a standard treatment after chemoimmunotherapy, either in first complete remission but especially in chemosensitive relapsed/refractory cases. The choice of conditioning regimen varies and is based on institutional experience rather than evidence.
Aims

To compare disease-free survival (DFS), event-free survival (EFS) and overall survival (OS) outcomes between DLBCL patients who received autologous grafts after conditioning with either BEAM or FEAM regimens.
Methods

Retrospective analysis of DLBCL patients transplanted in our institution between 2010 and 2018. Chi-square test was used for binary variables and Mann-Whitney test for continuous variables. Survival was plotted with Kaplan-Meier curves; data was compared with a log-rank test. A p value less than 0.05 was considered statistically significant.
Results

A total of 79 patients were included in the analysis; 31 were conditioned with BEAM and 48 with FEAM. Both groups were balanced for age (p=0.125), gender (p=0.902), cell-of-origin subtype (germinal centre vs activated B-cell, p=0.974), disease stage (limited vs advanced, p=0.805), international prognostic index (IPI) (p=0.407), age-adjusted IPI (p=0.515), disease response at transplantation (complete vs partial response, p=0.574) and transplant timing (first response vs relapsed/refractory disease, p=0.574). The prevalence of secondary neoplasms was the same in both groups (BEAM 4% and FEAM 11%, p=0.326); by contrast hospitalization time was longer after FEAM conditioning (median of 25 vs 22 days, p=0.048). The outcomes of DFS, EFS and OS did not differ significantly between both groups (p=0.587, p=0.524 and p=0.448, respectively). BEAM/FEAM groups revealed 5-year DFS of 83%/87%, 5-year EFS of 80%/82% and 5-year OS of 87%/90%, respectively.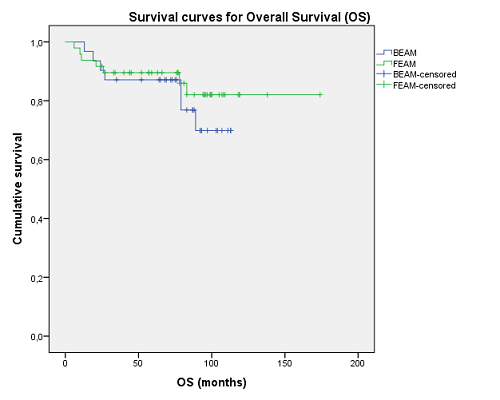 Conclusion

Our case series suggests that BEAM and FEAM conditioning regimens appear equally effective in terms of DFS, EFS and OS outcomes.
Session topic: 19. Aggressive Non-Hodgkin lymphoma - Clinical
Keyword(s): Autologous hematopoietic stem cell transplantation, Conditioning, Diffuse large B cell lymphoma