Abstract: PS1076
Type: Poster Presentation
Presentation during EHA24: On Saturday, June 15, 2019 from 17:30 - 19:00
Location: Poster area
Background
Diffuse large B-cell lymphoma (DLBCL) patients with dual expression (DE; BCL2 and MYC expression via immunohistochemistry [IHC]) or dual hit (DH; BCL2 and MYC translocation via fluorescence in situ hybridization [FISH]) have poor prognosis.
Aims
Given that some heterogeneity exists in IHC and FISH methods across labs in clinical practice, we investigated the real-world prognostic ability of BCL2/MYC in first-line (1L) DLBCL patients treated with rituximab, cyclophosphamide, doxorubicin, vincristine, and prednisone (R-CHOP). If prognostic, this supports exploration of local testing methods as an alternative to centralized testing to expedite time from diagnosis to treatment and limit selection bias for less aggressive patients in investigational studies that require patient selection based on these biomarkers.
Methods
The Flatiron Health electronic health record (EHR)-derived database includes structured and unstructured patient data from >280 cancer clinics. We identified 1L DLBCL patients diagnosed from 2011 to 2018 treated with R-CHOP. We classified them by BCL2 and MYC expression and translocation based on values extracted by Flatiron Health, for both IHC and FISH, using the most recent report prior to 1L treatment. We also classified patients by cell of origin (COO; germinal b-cell [GCB], activated b-cell [ABC]/non-GCB) based on IHC. Univariate Cox models estimated hazard ratios (HRs) and 95% confidence intervals (CIs) for overall survival (OS) and time to next treatment (TTNT). Kaplan–Meier methods generated survival curves.
Results
Median (interquartile range) age at diagnosis was 68 (58–76) years. Most patients were white (69%) and male (55%); 28% were GCB, 19% ABC/non-GCB, 53% were missing COO. IHC-assessed BCL2 and MYC were available for 25% and 28% of patients, respectively (60% and 17%, respectively, for FISH). Rates of BCL2/MYC expression and translocation were within the expected range. Characteristics did not differ for patients who were unknown or untested. Inferior OS and TTNT were observed among patients with DH, DE, high BCL2 expression, and MYC translocation, although the association between DE and OS was only marginally significant (Table 1). When stratifying on COO, this association held regardless of COO for DH, BCL2 expression, and MYC translocation, but DE did not significantly predict shorter OS in GCB patients. Inferior TTNT, but not OS, was observed among patients with high MYC expression and BCL2 translocation (Table 1). When stratifying on COO, the association between high MYC expression and shorter TTNT was only marginally significant within each subgroup, likely due to lower power. The association between BCL2 translocation and shorter TTNT was only significant within GCB patients. Multivariate analysis will be presented.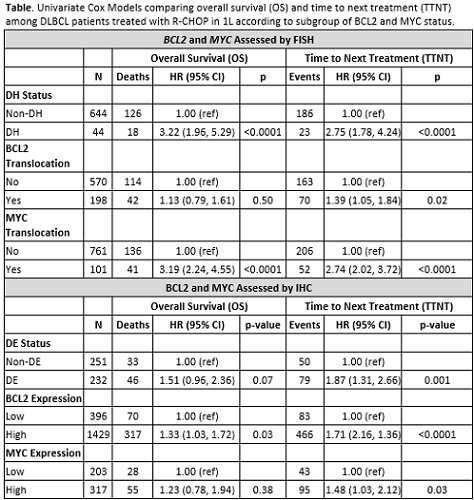 Conclusion
In this real world dataset, we found that BCL2 expression and MYC translocation had strong prognostic ability among DLBCL patients treated with R-CHOP as 1L treatment, comparable with previous findings. DE, DH, high BCL2 expression, and MYC translocation predicted shorter OS and TTNT, while high MYC expression and BCL2 translocation predicted shorter TTNT only, a proxy for progression. Our findings in this real world dataset, despite key limitations, including significant missing data inherent to EHRs, imply robustness of these biomarkers to identify high-risk patients in 1L DLBCL. Efforts to improve interpretive accuracy and external quality assurance programs should be considered to strengthen consistency in testing of these biomarkers in routine practice.
Session topic: 19. Aggressive Non-Hodgkin lymphoma - Clinical
Keyword(s): BCL2, MYC, Prognostic