Abstract: PS1072
Type: Poster Presentation
Presentation during EHA24: On Saturday, June 15, 2019 from 17:30 - 19:00
Location: Poster area
Background
Rituximab is an anti-CD20 monoclonal antibody that has been approved by FDA in 1997 for treatment of B cell lymphomas. Most data about the effect of Rituximab on survival come from either randomized controlled trials or retrospectively from local centers' experiences.
Aims
The aim of this study was to report on the real-world experience in the United States for patients with B-cell lymphomas using data available in the SEER (National Cancer Institute Surveillance, Epidemiology, and End Results) program's database. SEER incorporates data from 18 cancer registries all over the United States and includes data dating back to 1973. These nationwide and historical data enabled the comparison between cases diagnosed 1983-1997 (15 years before Rituximab approval) and cases diagnosed 1998-2012 (15 years after Rituximab approval).
Methods

Data were obtained using SEER*Stat version 8.3.5 where (SEER 18 Regs Nov 2017 Submission) database was used as the main data source. B-cell Non-Hodgkin lymphoma cases diagnosed between 1983 and 2012 were included. Survival analyses were made using IBM SPSS version 25.0 and SEER*Stat software. Comparison between groups was done using Log-rank test while relative survival was calculated using Ederer II method.
Results
A total number of 230577 cases were included in the analysis. B-Cell lymphomas showed a median survival of 94 months (95% CI: 93-95) compared to 50 months (95% CI: 48.7-51.3) in the post and pre rituximab eras, respectively. Log rank test showed statstically significant difference in survival between the two groups (p < 0.001) (Figure1). This difference was consistent among all stage groups (Table 1).




Median Survival

5 Years Relative Survival

Estimate

95% Confidence Interval




Estimate

95% Confidence Interval

Lower Bound

Upper Bound

Lower Bound

Upper Bound

Stage I

Pre-Rituximab

85.000

81.908

88.092

67.50%

66.20%

68.80%

Post-Rituximab

129.000

126.606

131.394

81.80%

80.90%

82.70%

Stage II

Pre-Rituximab

62.000

58.161

65.839

60.20%

58.20%

62.20%

Post-Rituximab

112.000

108.875

115.125

75.50%

74.30%

76.70%

Stage III

Pre-Rituximab

39.000

36.218

41.782

48%

45.80%

50.10%

Post-Rituximab

89.000

86.501

91.499

70.20%

68.90%

71.50%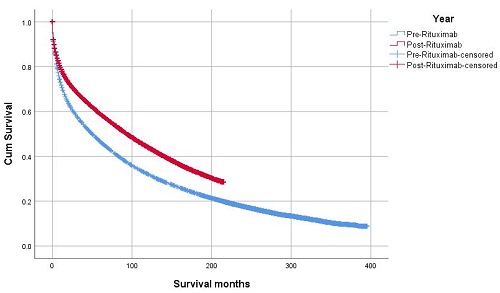 Conclusion
Rituximab's approval has led to a dramatic improvement in survival of patients with B-Cell lymphomas. Data from United States confirms that this improvement was consistent in all disease stages.
Session topic: 19. Aggressive Non-Hodgkin lymphoma - Clinical
Keyword(s): Lymphoma, Rituximab, Survival