Abstract: PS1068
Type: Poster Presentation
Presentation during EHA24: On Saturday, June 15, 2019 from 17:30 - 19:00
Location: Poster area
Background
 A significant proportion, ~40% of patients with Diffuse Large B Cell Lymphoma (DLBCL) are ≥70years (yrs). With a rapidly rising aging population, there is an unmet need for evidence-based treatment paradigms for truly elderly patients (pts), for whom R-mini-CHOP has been shown to be tolerable, albeit with limited efficacy. Ibrutinib is an oral, covalent Bruton's tyrosine kinase inhibitor with suggested efficacy in combination with R-CHOP in younger pts, but with significant toxicity limiting the ability to complete therapy in pts ≥60 yrs.
Aims
This is a prospective, open-label, multicentre Phase II study of ibrutinib, rituximab and mini-CHOP in pts ≥75yrs with newly diagnosed DLBCL. The aim of this study is to assess the safety and efficacy of ibrutinib-R-mini-CHOP in subjects with DLBCL measured by deliverability and 2 yr overall survival. Deliverability results are presented here.
Methods
Key inclusion criteria include: age ≥75yrs, newly diagnosed de novo DLBCL, ECOG≤2 and adequate organ function. Pts received six 21 day cycles of ibrutinib 560mg daily and R-mini-CHOP (Rituximab 375mg/m2, cyclophosphamide 400mg/m2, doxorubicin 25mg/m2, vincristine 1mg on day 1 & prednisone 40mg/m2 or 100mg/d x 5) followed by an additional two 21 day cycles of rituximab + ibrutinib (or high dose methotrexate for CNS prophylaxis). Pre-phase prednisone, quinolone prophylaxis during neutropenic period in cycle 1, and G-CSF each cycle were mandated. Deliverability is measured using Average Relative Total Dose (ARTD) [Average delivered dose of the chemotherapy regimen as a % of the target dose] and Average Relative Dose Intensity (ARDI)[Average delivered dose of the chemotherapy regimen per unit time (week) as a % of the target dose intensity].
Results
80 pts were recruited between Nov 2015 & Dec 2018. Of the first 70 to have completed therapy by the data cut-off 14 Feb 2019, one died prior to commencing therapy but is included in the safety analysis. The remaining 69 are included in the deliverability analysis. Complete analysis for all 80 pts will be presented at the meeting. Median age was 81yrs (range 75-95); 51% female, 81% stage III/IV and 64% IPI 3-5. The ARTD & ARDI data are presented in the Table. Most patients received six cycles (75%; 52/69), with 14% (10/69) receiving <4. Treatment was discontinued in 23 pts (33%) due to: progressive disease 5/69 (7%), ibrutinib toxicity 4/69 (6%), withdrawal of consent 4/69 (6%), intercurrent illness 3/69 (4%), R-mini-CHOP toxicity 2/69 (3%), other reasons 2/69 (3%), and death 2/69 (3%). Most patients 63/70 (91%) experienced an adverse event (AE), and 66% experienced a serious AE (SAE): one SAE in 15/70 (21%), 2 in 8/70 (11%), 3 in 13/70 (19%), ≥4 in 10/70 (15%). The most common SAEs were infection (26 events, 24 ≥Gd 3), atrial fibrillation (8 events, 5 ≥Gd 3), febrile neutropenia (6 events, 6 ≥Gd 3). Of AEs of special interest, diarrhoea occurred in 38/69 (55% pts; 6 ≥Gd 3), atrial fibrillation in 12/69 (17%, 4 ≥Gd 3), and two pts had major bleeding (Gd 3, Gd 5). At a median follow-up of 12.7 months (IQR 5.0-22.1) there were 19/70 (27%) deaths, mostly due to lymphoma (11/70, 16%), and infection (3/70, 4%).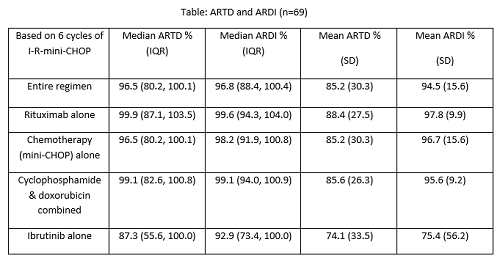 Conclusion
In this very elderly cohort the majority of pts were able to complete 6 cycles of R-mini-CHOP, maintaining a high ARDI and ARTD of both immunochemotherapy and ibrutinib, with notable but expected toxicity. Despite limited follow-up, there remains a high rate of early progression and death, undermining the potential of this combination to improve overall survival over the use of R-mini-CHOP in very elderly patients with DLBCL.
Session topic: 19. Aggressive Non-Hodgkin lymphoma - Clinical
Keyword(s): Chemotherapy, DLBCL, Elderly, Ibrutinib