Abstract: PS1064
Type: Poster Presentation
Presentation during EHA24: On Saturday, June 15, 2019 from 17:30 - 19:00
Location: Poster area
Background
With the US FDA approval of midostaurin in front line and gilteritinib in relapsed FLT3 AML, and the potential approval of quizartinib (quiz), switching from one FLT3i to the next in the salvage setting is anticipated. The response rates to second and potentially third FLT3i exposure in R/R AML pts and in pts who receive FLT3i with induction remains poorly defined.
Aims
To evaluate the response rate with sequential FLT3i usage, and combination versus single agent FLT3i based therapy.
Methods
Adult pts with R/R (Cohort 1) or frontline (Cohort 2) FLT3-ITD mutated AML who received at least one FLT3i based therapy at MDACC from 2007 to 2018 were eligible. Single agent FLT3i and FLT3i-based combinations with cytotoxic chemotherapy (CCT) and low intensity therapy (LIT) (hypomethylating agents and low-dose cytarabine) were included.
Results
Cohort 1 (R/R): 178 pts with FLT3-ITD mu R/R AML received a FLT3i during salvage of whom 88 pts received a second FLT3i, 22 a third FLT3i, and 4 a fourth FLT3i, all in salvage setting. Half of the FLT3i based therapies administered in salvage were single-agent FLT3i, and the other half as FLT3i based combinations. The overall composite CR (CRc) rate with quiz-based therapies as first FLT3i exposure in salvage was 55%. CRc rate was 67%, when quiz was combined with low intensity therapy (HMA or LDAC) as compared to 45% as single agent. The overall CRc rate with sorafenib-based therapies as first FLT3i exposure in salvage was 38%, with almost all responses in combinations (43%), and a low single agent response rate (14%). In the second FLT3i exposure in salvage setting, CRc was lower at 20% in all patients, including quiz single agent (22%) and combinations (29%); sorafenib single agent (0%) and combinations (26%). In the third FLT3i exposure in salvage setting, CRc was lower at 9% in all pts: 3 pts received quiz and none responded; 6 pts received sorafenib in combination and only one responded. Additionally, a total of 11 patients have received gilteritinib, all in salvage, with CR/CRi rates of 2/3 as first FLT3i in salvage, 3/7 as second FLT3i in salvage, and 1/1 as third FLT3i in salvage.
Cohort 2 (Frontline):  37 pts received FLT3i as part of their frontline treatment: 17 with CCT, 19 with LIT, and one single agent quiz. The CRc was 82% (14/17) in frontline combination with CCT (all patients received sorfenib or midostaurin with CCT, only one received quiz). The CRc was 74% (14/19) in frontline combinations with LIT: 12 of these 19 pts received quiz+LIT (HMA or LDAC) with a CRc of 83%. In the 37 pts who received FLT3i during induction, 24 eventually relapsed and received a subsequent FLT3i based therapy: the CRc rates with FLT3i CCT combinations, LIT combinations, and single-agent were 50%, 60%, and 13%, respectively, suggesting a need for combinatorial approaches in pts failing frontline FLT3i based therapy.
Achievement of FLT3 PCR negativity at CRc on FLT3i based therapies, both single agent and combination approaches, was associated with a significant improvement in overall and event-free survival in FLT3 AML patients. This difference was not seen using multiparametric FCM to define MRD at response (Figure 1).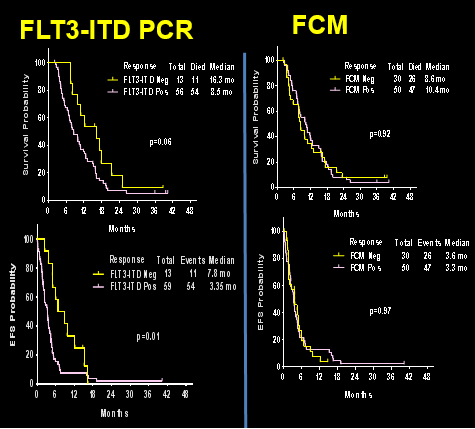 Conclusion
The CRc rates were lower with sequential exposure to FLT3 inhibitors in R/R AML, going from 42% in prior FLT3i naïve to 19% in prior FLT3i exposed. In all exposure settings, the response rates were higher in FLT3-inhibitors based combinations (with LIT or CCT), suggesting optimal approach may be to use these agents in combinations.
Session topic: 4. Acute myeloid leukemia - Clinical
Keyword(s): AML, FLT3, Flt3 inhibitor, Flt3-ITD