Abstract: PS1055
Type: Poster Presentation
Presentation during EHA24: On Saturday, June 15, 2019 from 17:30 - 19:00
Location: Poster area
Background
Minimal residual disease (MRD) is one of the most predictive factors for relapse in acute myeloid leukemia (AML) patients (pts). For today there is no certain concern for optimal time point in MRD evaluation. Some studies show importance of reaching MRD –negativity for relapse free survival (RFS) after the first chemotherapy (ChT) course and others –after the second ChT course.
Aims
To investigate MRD status importance after 1st ChT course and in different consolidation treatment.
Methods
From March 2016 to February 2019 66 pts (younger 60 y.o.) with newly diagnosed AML were included in prospective MRD study in hematology department of National Research Center for hematology. For every patient before any treatment initial leukemia-associated immunophenotype was evaluated. Bone marrow puncture for MRD detection was performed  after 1st  and 2nd ChT courses. Results were analyzed on BD FACSCanto II (Becton Dickinson) machine and antibody panel included CD19, CD7, CD2, CD38, CD65, CD66b, CD99 (FITC), CD56, CD15, CD11b, CD13 (PE), CD33 (APC), HLA-DR, CD14, CD16, CD117 (PerCP-Cy 5.5), CD45 (APC-H7) and CD34 (PE-Cy7). The first course for all patients was the standart «7+3». Before March 2017 the second course was also «7+3» and included 31 pts, after March 2017 -  35 pts received intensive regimen «Flarida» (Fludarabine 30mg/m2 1-4, Ara-C 1g/m2 1-4, Idarubicin 8mg/m2 1-3). The second MRD test was compared in two groups of pts. There was no difference between the two groups by pts in CR after the first «7+3», ELN status and age (Table 1).
Results
Threshold value of 0,01% was estimated for long-term prognosis. Two year RFS in MRD negative pts after 1st, 2nd course and in pts without MRD-negativity after 2 courses was 90%, 48% and 32%, respectively (p<0,01). Probability of relapse (PoR) during 2 year of observation in groups were 10%, 65% and 58%, respectively (p<0,01), fig.1a. After the 2nd course 15 more pts became MRD-negative and 8 of them developed a relapse. There was no association between MRD status after induction in different ELN groups (p>0,05). When comparing ELN risk, age, gender, MRD status, leukocyte count  for predicting relapse in multivariate analyses the most important was the MRD-1 status (after 1st induction) with Hazard Ratio of 35 (for ELN HR=4).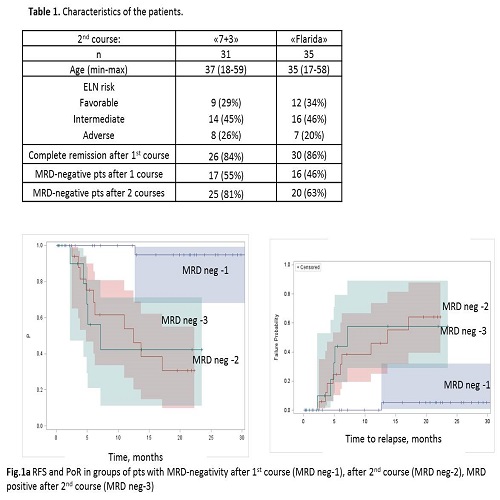 Conclusion
MRD status in AML measured by flow cytometry is an independent important factor for RFS, showing high HR in statistic analyses. The RFS was significant higher in pts with MRD-negative status right after 1st induction. Long-term results of pts in two other groups - with persistent MRD after 1st and 2nd ChT - were much worse and showed almost the same data. There is a great need of new therapy approaches for the first ChT line in AML pts for increasing MRD-negativity.
Session topic: 4. Acute myeloid leukemia - Clinical
Keyword(s): Acute myeloid leukemia, Chemosensitivity, Flow cytometry, Minimal residual disease (MRD)