Abstract: PS1054
Type: Poster Presentation
Presentation during EHA24: On Saturday, June 15, 2019 from 17:30 - 19:00
Location: Poster area
Background
In patients with relapsed or refractory acute myeloid leukemia (R/R AML) encouraging results have been reported after allogeneic hematopoietic stem cell transplantation (HSCT) following a conditioning regimen with sequential melphalan, fludarabine and total body irradiation (FMTBI) (Steckel et al., Br. J. Haematol. 2018; 180:840-853). However, non-relapse mortality (NRM) was up to 45% in elderly patients (>59 years) and higher age was associated with inferior survival. 
Aims
We hypothesized that in elderly patients with active disease or AML with unfavorable genetics, fludarabine and melphalan alone might enable similar long-term graft-versus-host-disease (GVHD) and relapse-free survival (GRFS) and be associated with lower NRM compared to FMTBI.
Methods
Between 01/2011-02/2019, 106 consecutive high-risk AML patients received conditioning with FMTBI (n=58), i.e. melphalan (140mg/m2, day -11) preceding fludarabine (30 mg/m2days -5 to -2) and total body irradiation (2-8 Gy starting on day -1) or FM (n=48), i.e. fludarabine day -6 to -2 and melphalan (140 mg/m2, day -3) and a T cell-repleted graft from an HLA-matched donor. GVHD prophylaxis consisted of cyclosporine A or tacrolimus plus mycophenolate mofetil; additional antithymocyte globulin was administered in the unrelated donor setting. Active disease was defined as ≥5% bone marrow blasts or extramedullary disease.
Results
Prior to conditioning, 72% of patients had active (n=48) or measurable residual disease (MRD, n=29) and 18% were in complete remission (without MRD marker: n=15; MRD negative: n=4). MRD was determined by qPCR analysis of mutated NPM1 (n=25), CBFB-MYH11 (n=3), MLL-PTD (n=4) and JAK-V617F (n=1). In the FM group, patients were older (58 vs. 48 years, p=0.09) and significantly more patients had a high-risk Hematopoietic Cell Transplantation-Comorbidity Index (56% vs 22%), p=0.02). Genetic risk according to European Leukemia Network criteria 2017 did not differ between the FM and FMTBI group (low/intermediate/high: 19%/42%/39% vs 33%/27%/ 40%; p=0.18). Twenty-nine patients (27%) were grafted from a matched related donor, 65 patients (61%) from a 10/10 matched unrelated donor (MUD), and 12 patients (11%) from a 9/10 MUD and the vast majority received peripheral blood stem cells (99%). All patients engrafted. With a median follow-up of 30.8 months (range, 1.6-95.3), probabilities of overall and relapse-free survival at 3 years were comparable between the FM and FMTBI group (65.0±7.1% vs 72.8±8.2%; p=0.452, and 61.1±7.2% vs 68.3±8.1%; p=0.573, respectively). Similarly, non-relapse mortality at 3 years (15% vs. 4%; p=0.11), cumulative incidences of acute GVHD grade 3-4 at day +100 (10% vs 5%; p=0.31) and chronic severe GvHD at 1 year (19% vs 11%; p=0.47) did not differ between groups. The combined endpoint GRFS was 51.2±7.3 in the FM group and 49.9±9.2% in the FMT group (p=0.109), respectively.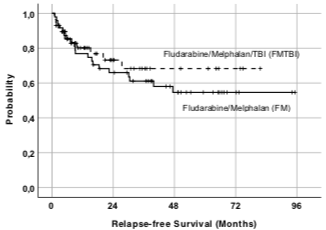 Conclusion
Conclusion: Our data suggest that FM is well tolerated and associated with similar outcomes compared to FMT in our AML patients of whom >70% proceded to transplant with active or measurable residual disease. Especially elderly patients, who face a high risk of NRM, might not benefit from additional TBI. Thus, FM is a valid option for this vulnerable patient cohort resulting in a median GRFS of 40 months. 
Session topic: 4. Acute myeloid leukemia - Clinical
Keyword(s): Acute myeloid leukemia, Conditioning, Elderly