Abstract: PS1048
Type: Poster Presentation
Presentation during EHA24: On Saturday, June 15, 2019 from 17:30 - 19:00
Location: Poster area
Background

Cytokines and adhesion molecules have been studied as markers of immune system activation in many diseases including acute myeloid leukemia (AML). Further knowledge gained from baseline cytokine levels assessment may help to improve risk stratification and outcomes.
Aims

The aim of this study is to evaluate baseline serum levels of selected leukemic environment markers, search for relationship with progression-free survival (PFS), overall survival (OS) and compare the findings with standard prognostic markers in AML.
Methods

A total of 80 AML patients, age 53.5 ± 12.6 years, were studied in the period 2010 – 2016. The data were collected to the end of year 2018, so that all living event-free patients had at least two-year follow-up. Patients with acute promyelocytic leukemia or ineligible for induction therapy were not included into the study. Risk stratification was carried out according to the ELN 2017 recommendations. All patients were induced with "3+7" chemotherapy. We evaluated baseline serum levels of interleukins (IL-1α, IL-1β, IL-2, IL-3, IL-4, IL-5, IL-6, IL-7, IL-8, IL-10, IL-12, IL-13, IL-15), Epidermal Growth Factor, GM-CSF, Interferon-γ, Macrophage Inflammatory Protein-1α, Monocyte Chemotactic Protein-1, Tumor Necrosis Factor-α, Vascular Endothelial Growth Factor, E-selectin, P-selectin, L-selectin, Intercellular Adhesion Molecule-1, Vascular Cell Adhesion Molecule-1, Matrix Metalloproteinase-9, soluble IL-2 receptor-α (sIL-2Rα) and soluble receptors for IL-6 (sIL-6R) and TNF-α type I and II (TNFR-1,2). All biomarkers were measured by biochip array technology on Evidence Investigator analyzer (Randox).
The markers were analysed against high risk karyotype, remission achievement after induction, age over 65 years at diagnosis, highly elevated lactate dehydrogenase (LDH) – exceeding 5 times upper limit of normal values in our laboratory, PFS and OS.
Results

Higher age and high risk genetics were related to disease progression which was not significant after Bonferroni-Holm correction (P = 0.083 and 0.132 respectively). In low and intermediate risk group, higher age was associated with shorter PFS (P ˂ 0.001). Disease progression was strongly associated with death. Those who were progression-free for at least two years had much lower risk of relapse, (P ˂ 0.001) for the whole cohort. Allogeneic stem cell transplantation was associated with survival benefit (uncorrected P ˂ 0.001). From evaluated serum factors, TNFR-1 and sIL-6R had relationship with PFS, but lost statistical significance after Bonferroni-Holm correction.
OS was influenced by age (P = 0.033), high-risk cytogenetics (P = 0.001), hematologic relapse (P ˂ 0.001) and prolonged relapse-free period (P ˂ 0.001). In the whole cohort, analysis CR after induction therapy was not associated with survival benefit, which was also true for low and intermediate risk subgroup. In high-risk subgroup, the CR after induction was associated with survival benefit (P ˂ 0.001). Highly elevated LDH was a negative prognostic factor (P = 0.012) in low and intermediate risk subgroup. In the whole cohort, the levels of sIL-2Rα (corrected P = 0.001, Figure 1) and TNFR-1 (corrected P = 0.053) were candidate factors for improvement of OS prediction.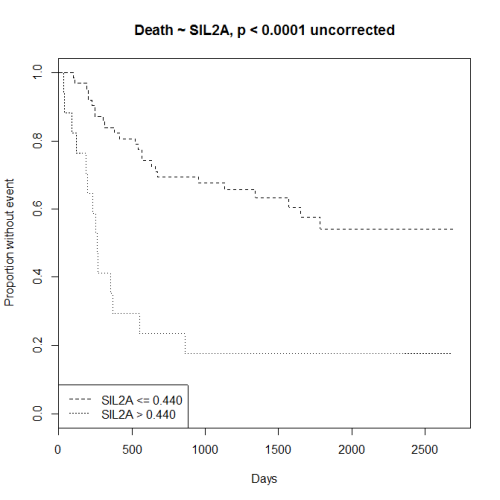 Conclusion

Understanding the cancer microenvironment may help in development of new treatment approaches. Our results show that sIL-2Rα and TNFR-1 may be associated with treatment outcome and thus should be further investigated as possible therapeutic targets.
The work was supported by a long-term organisation development plan 1011 (FMHS).
Session topic: 4. Acute myeloid leukemia - Clinical
Keyword(s): AML, Cytokine, Prognosis