Abstract: PS1046
Type: Poster Presentation
Presentation during EHA24: On Saturday, June 15, 2019 from 17:30 - 19:00
Location: Poster area
Background

The cytokine Fms-like tyrosine kinase 3 ligand (FL) is a key regulator of hematopoiesis. In a previous study aimed to assess the impact of soluble FL serum concentration (sFLc) in acute lymphoblastic leukemia (ALL) and acute myeloid leukemia (AML) patients, we showed that sFLc kinetic profile during induction seemed to be a new powerful early prognostic parameter in AML (Peterlin et al. Haematologica 2019).
Aims

To explore the impact of sFLc median levels and kinetic profile during allogeneic stem cell transplantation (allo-HSCT).
Methods

This was a prospective monocentric study (ClinicalTrials.gov NCT02693899) where ALL and AML patients who underwent allo-HSCT had serum samples collected before the start of conditioning, at days 0, 30, 60 and 90 post-transplant. Samples were frozen, stored and tested by ELISA (DY308, R&D Systems, Minneapolis, MN). The impacts assessed were of either median sFLc levels or kinetic sFLc profiles (steadily increasing, increasing then decreasing, stagnating or steadily decreasing). The parameters considered were hematopoietic recovery, leukemia-free (LFS) and overall (OS) survivals, acute and chronic graft-versus-host disease (GVHD), grade ¾ GVHD-free and relapse-free survival (GRFS). All patients provided informed consent.
Results

Between September 2016 and January 2018, 41 patients were included in the study, including 34 AML and 7 Ph+ ALL. Patient characteristics are shown in Table 1. A total of 179 samples was assayed. Pre and post-graft median sFLc levels were as follows: before conditioning: 69 (3-8821) pg/mL; day 0: 1599 (45-7572) pg/mL; day 30: 74 (14-3753) pg/mL; day 60: 101 (8-2136) and day 90: 105 (15-2392) pg/mL. There was no difference in terms of median sFLc concentrations between AML and ALL, except at day 0: 3566 pg/mL for ALL versus 1509 pg/mL for AML (p=0.002). Patients receiving a myeloablative conditioning had a higher sFLc level at day 0 (median: 2563 [1039-4550] vs reduced intensity conditioning:  1554 [45-7572], p=0.03).
With a median follow-up of 22.5 months (range: 8-26) for alive patients, 2 year OS, LFS and GRFS were 75.2% (63-89), 70.8% (57-87) and 55.4% (41-73), respectively. It was 70% (56-87), 65.3% (50-84) and 45.8% (31-66), respectively for AML patients while it was 100% for ALL patients for each outcome. There was no impact of median sFLc levels nor of kinetic sFLc profiles on hematopoietic recoveries, acute and chronic GVHD incidences, LFS, OS, and GRFS.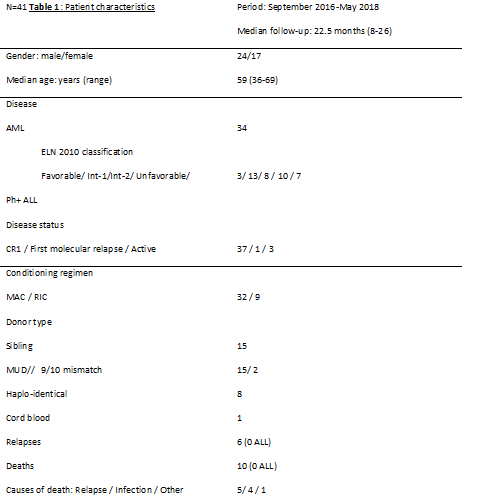 Conclusion
At variance with induction results for AML, sFLc does not appear to be a prognostic marker at the time of or after allo-HSCT. This study is, to the best of our knowledge, the first to prospectively address this issue.
Session topic: 4. Acute myeloid leukemia - Clinical
Keyword(s): Acute lymphoblastic leukemia, Acute myeloid leukemia, Allogeneic stem cell transplant