Abstract: PS1036
Type: Poster Presentation
Presentation during EHA24: On Saturday, June 15, 2019 from 17:30 - 19:00
Location: Poster area
Background
As a single agent, the FLT3 inhibitor, gilteritinib, elicited antileukemic responses in patients with FLT3-mutated (FLT3mut+) relapsed/refractory AML. 
Aims
We evaluated once-daily oral gilteritinib combined with front-line chemotherapy in patients with newly diagnosed (ND) AML.
Methods
This ongoing open-label, phase 1 study (NCT02236013) assesses the safety/tolerability and antitumor effects of gilteritinib combined with 7+3 induction and high-dose cytarabine consolidation chemotherapy, and as single-agent maintenance therapy in adults with ND AML. During dose escalation, successive cohorts of 3–6 patients received 40, 80, 120, or 200 mg/day of gilteritinib (Days 4–17 [Schedule 1]) and ≤2 cycles of induction (cytarabine 100 mg/m2/day, Days 1–7, idarubicin 12 mg/m2/day, Days 1–3). During dose expansion, patients received the recommended expansion dose of gilteritinib (Schedule 1) combined with 7+3 idarubicin induction. Two additional cohorts received gilteritinib on Days 8–21 (Schedule 2) with idarubicin (n=6; 12 mg/m2/day) or daunorubicin (n=5; 90 mg/m2/day) on Days 1–3. During consolidation, patients received cytarabine (1.5 g/m2 every 12 hours, Days 1, 3, and 5) and gilteritinib (Days 1–14) at the induction dose for ≤3 cycles. After consolidation or transplantation, patients received gilteritinib (40, 80, or 120 mg/day) maintenance therapy.
Results
Of 68 patients enrolled as of October 8, 2018 (safety analysis set, n=66), most were male (63.6%; median age, 59.5 years [range, 23–77]); 36 (54.5%) were FLT3mut+ (FLT3-ITD, n=25; FLT3-TKD D835, n=7; FLT3-ITD and -TKD D835, n=1; other FLT3 mutation, n=3). Two patients in the 200 mg/day cohort experienced dose-limiting toxicities (neutropenia, neutropenic enterocolitis). The maximum tolerated dose and the recommended expansion dose were established at 120 mg/day. Common grade ≥3 adverse events (AEs) were febrile neutropenia (63.6%), thrombocytopenia (19.7%), neutropenia (19.7%), decreased white blood cell count (19.7%), decreased platelet count (19.7%), and decreased neutrophil count (16.7%). Serious drug-related AEs in >1 patient were febrile neutropenia (n=11), sepsis (n=4), small intestinal obstruction (n=2), and decreased ejection fraction (n=2). End-of-treatment investigator-reported composite complete remission (CRc) rate for evaluable FLT3mut+ patients receiving gilteritinib on Schedule 1 (n=22) was 100%. The CRc rate in FLT3mut+ patients receiving Schedule 2 induction with either idarubicin or daunorubicin (n=11) was 81.8% (Table). Median overall survival has not been reached.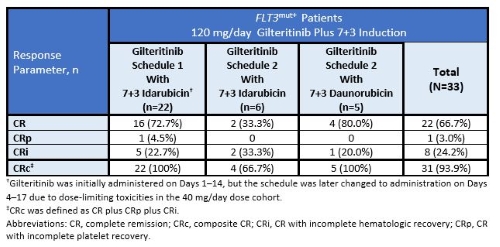 Conclusion
Gilteritinib can be safely combined with chemotherapy and given as maintenance therapy in patients with ND AML. High response rates were observed in FLT3mut+ patients regardless of anthracycline type or gilteritinib administration schedule.
Session topic: 4. Acute myeloid leukemia - Clinical
Keyword(s): Acute myeloid leukemia, Chemotherapy, Flt3 inhibitor