Abstract: PS1033
Type: Poster Presentation
Presentation during EHA24: On Saturday, June 15, 2019 from 17:30 - 19:00
Location: Poster area
Background
In cancer, epigenetic alterations occur much more frequently than genetic mutations. Targeting epigenetic regulators constitutes a promising approach in leukemia treatment. Lysine-specific demethylase 1 (LSD1) is a histone demethylase that modifies histone 3 methylation (H3K4me1/2) status, and is highly expressed in AML patients. In Acute Promyelocytic Leukemia (APL), all-trans-retinoic acid (ATRA) induces differentiation of leukemic blasts, but is not effective in non-APL AML. Recently, we showed that LSD1 inhibition by Tranylcypromine (TCP) has a synergistic effect with ATRA inducing myeloid differentiation in primary AML blasts (Schenk et al., Nature Med 2012).  
Aims
This phase I/II study evaluated feasibility, safety and efficacy of combination treatment of the LSD1 inhibitor TCP and ATRA as salvage therapy for patients with relapsed/refractory (r/r) AML, ineligible for intensive treatment.
Methods
The trial was conducted at four centers in Germany on behalf of the SAL (Study Alliance Leukemia). TCP (starting at 10 mg/d with daily increases up to 60 mg/d) and ATRA (starting on day +7 with a fixed dose of 45mg/m²) were administered as 28-day cycles up to 12 cycles. The primary endpoint was the cumulative response rate.
Results
Between December 2014 and February 2017, 18 Patients (median age 73 [range, 22-79] years) were enrolled (Tab 1). Four patients were refractory and among the 14 relapsed patients, 8 patients had relapsed after allogeneic hematopoietic stem cell transplantation (HSCT) and 9 patients had at least two or more previous therapy lines. A median of 1.4 cycles (range, 0.5-3.5) were administered. 16 patients were available for efficacy analyses. The overall response rate was 18.75%; 2 patients (12.5%) achieved complete remission without hematological recovery (CRi) and 1 patient achieved a partial response (PR). One patient had reduction of blasts in the bone marrow without fulfilling PR criteria and one patient, who also achieved stable disease with improved clinical status underwent HCST after two cycles and is still alive. The most frequently reported treatment-related adverse events (AE) were fatigue and vertigo. One patient developed a severe differentiation syndrome. None of the 13 serious AEs (SAEs) were related to the study treatment. At the end of follow-up, 17 out of 18 Patients had died, no cases of treatment related mortality occurred.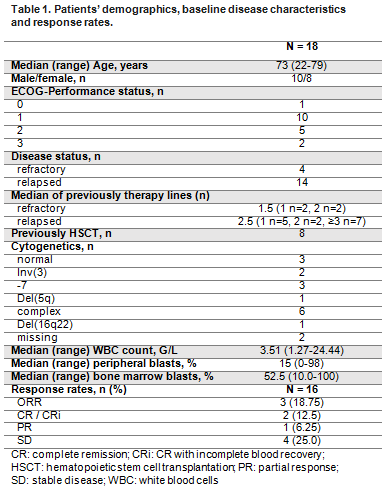 Conclusion
The current study provides evidence that LSD1 inhibition coupled with ATRA can induce differentiation of AML in vivo with clinical benefit. The combination has acceptable toxicity in heavily pretreated patients with r/r AML, warranting further trials in randomized studies. More specific LSD1 inhibitors might be even more effective when combined with ATRA.
Session topic: 4. Acute myeloid leukemia - Clinical
Keyword(s): Acute myeloid leukemia